Other Ways of Looking at the World – 2014 Home Page Alice Walkers Garden
December 2014
Dick Gregory
Man of the Years
©2014 by Alice Walker
IN PRAISE OF DICK GREGORY I paraphrase Mari Evans' great poem, substituting man for woman:
I am a black man…
Look on me
And be
Renewed.
What is it about Dick Gregory that settles and comforts us? Even as he bemoans our many states of unawareness.
It is that he is still himself; with the same nose, lips, eyes, skin, hair, humor, wisdom, and health consciousness that he has always had.
He has blossomed into a most beautiful elder.
He has survived to be the grandfather every tribe requires to see itself: humorous,smart, irascible, irreverent, sometimes repetitive, eating snacks while telling a story, chuckling with abandon at jokes and asides only he might understand, unafraid to display irritation or to interrupt a, to him, impertinent or irrelevant question and questioner, unafraid to vent.
This freedom of being, which is the elder's earned right, is a gift so rare in our age as to be almost incomprehensible.
How did this happen? That Dick Gregory survived, as himself, and as the 82 year old version of that self?
This is what old age looks like, or can. It used to look like this in Georgia when I was growing up, and in parts of Africa, perhaps, it looks this way still. The freedom to joke about everything that grownups think is serious. There is nothing like it. Except, perhaps, childhood.
Thank you Dick Gregory for your long distance integrity. You make us happier to be us. Thank you also for making 2014, a hard year for so many beings on the planet, easier. 2014 could not have been borne as well without your example of bearing all, and living through.
Coretta (King) died of grief, you have said. Others might too, without elders delivering mind and heart rearranging information and humor to alleviate the desolation that afflicts, scars, and deforms human life.
I also thank Underground Railroad radio for sending out your voice.
Recommended : for a second Man of the Years there is the remarkable Abraham Bolden, the first African American to serve in the American Secret Service. Hired personally by president Kennedy, for White House detail, Bolden was mercilessly harassed, framed, and imprisoned when he expressed the view that the white Secret Servicemen surrounding Kennedy's limousine the day he was assassinated would not have been moved to protect him. There is a spellbinding interview with Bolden on Youtube; his book THE ECHO FROM DEALEY PLAZA is available. Now in his late Seventies, Bolden is interested in taking his story to students, and other interested Americans, around the nation.
HOMBRE DE LOS AÑOS
©2014 de Alice Walker
En memoria de Dick Gregory parafraseo el gran poema de Mari Evans:
Soy un hombre negro
Mírame
y te
renovarás.
¿Qué pasa con Dick Gregory que nos calma y consuela? Incluso cuando lamenta nuestros diversos estados de inconsciencia.
Resulta que aun así es él mismo, con la misma nariz, labios, ojos, piel, pelo, humor, sabiduría y sentido de la salud que siempre tuvo.
Ha florecido en un muy hermoso anciano.
Ha sobrevivido para ser el abuelo que cada tribu precisa para verse a sí misma: gracioso, inteligente, irascible, irreverente, a veces repetitivo, merendando mientras hace cuentos, riéndose entre dientes desinhibidamente de los chistes y acotaciones que solo él podría entender, sin temor a mostrar irritación o de interrumpir una pregunta o un preguntón, para él, impertinente o irrelevante, sin miedo a desahogarse.
Esta libertad de ser, que es el derecho conquistado por el anciano, resulta un don tan raro en nuestro tiempo como para que sea casi incomprensible.
¿Cómo sucedió esto? ¿Cómo fue que Dick Gregory sobrevivió a ser él mismo y a la versión con 82 años de ese ser?
Es así como se ve la vejez o podría verse. Solía verse así en Georgia en mis años de juventud y en partes de África tal vez aun se vea así. Es la libertad de burlarse de todo cuanto los adultos consideran que es serio. No hay nada parecido a esto, con excepción quizás de la niñez.
Gracias, Dick Gregory, por tu maratónica integridad. Nos haces más felices de ser nosotros mismos. Gracias también por hacer de 2014, un año difícil para muchos seres en el planeta, más llevadero. 2014 no hubiese podido soportarse igual sin tu ejemplo de aguantarlo todo y sobrevivirlo.
Coretta (King) murió de dolor, tú dijiste. Otros podrían haberlo hecho también, sin ancianos que entreguen su mente y su corazón a reordenar la información y el humor para aliviar la desolación que aflige, marca y deforma la vida humana.
De igual modo agradezco a la radio Underground Railroad por diseminar tu voz.
Recomendación: Como segundo Hombre de los Años está el extraordinario Abraham Bolden, el primer afroamericano que trabajó para el Servicio Secreto estadounidense. Reclutado personalmente por el presidente Kennedy, Bolden fue despiadadamente acosado, acorralado y apresado por expresar su punto de vista de que el Servicio Secreto que rodeaba la limosina del presidente Kennedy el día en que fue asesinado no hizo nada para protegerlo. Hay una fascinante entrevista a Bolden en Youtube. Su libro The Echo From Dealey Plaza está en existencia. Ahora, a sus largos setenta años, Bolden se interesa en transmtir su historia a los estudiantes y otros estadounidenses interesados por todo el país.
El primer agente negro en el Servicio Secreto, Abraham Bolden, habla acerca de su acoso y sobre el asesinato de JFK.
Colgado por WeAllBe TV.
First Black Secret Service Agent, Abraham Bolden,
Speaks Out On Being Framed & JFK Assassination
Uploaded by WeAllBe TV
Nobility
My Cuban friend writes: Christmas is the time of rebirth. Also: that your release and arrival back home in Cuba coincided with the day of St. Lazarus. (A day much celebrated in Cuba.) Lazarus who, because he was a good man, and beloved, was called back from the clutches of the dead.
You have Cuban families and an international family. We are awed by your courage and fortitude and deep love for your people and your country. May we learn to be as strong in defense of what we hold dear as you have been. Perhaps part of your work in this lifetime was to teach us this. If so, thank you.
Happy Rebirth!
Recommended: The most exciting way to be brought quickly up to speed on the significance of the Cuban Revolution is to read Nancy Stout's ONE DAY IN DECEMBER: Celia Sanchez and the Cuban Revolution
Also: History Will Absolve Me, by Fidel Castro (1953)
Mi amigo Cubano escribe: Navidades es el tiempo del renacer. También que la liberación de ustedes y su regreso a sus hogares en Cuba coincidían con el Día de San Lázaro (fecha muy celebrada en Cuba). Lázaro que siendo un buen hombre fue llamado de las garras de la muerte a la vida.
Ustedes tienen familias cubanas y una familia internacional. Estamos impresionados por su coraje, su fortaleza y su profundo amor hacia su pueblo y su país. Ojalá aprendamos a ser tan fuertes en la defensa de lo que creemos valiosos como lo han sido ustedes. Quizás parte de su labor en esta vida ha sido enseñarnos esto. De ser así, gracias.
Feliz Renacer!
Traducción al español de Manuel García Verdecia
A DAY OF REVOLUTIONARY REAFFIRMATION
By Manuel E. Yepe
https://englishmanuelyepe.wordpress.com/
A CubaNews translation. Edited by Walter Lippmann.
December 17, 2014 will go down in Latin American history as the day on which the Cuban revolution, triumphant since 1959, was finally accepted by the US government as an irreversible fact, thereby recognizing the legitimacy of the road opened by Cuba for all the peoples of Latin America to move towards the affirmation of their political independence.
Few, if anyone, could have imagined that the heroic sacrifice of a small group of brave and talented Cuban patriots could lead to such a
dramatic outcome. Risking their lives, they were able to infiltrate –unarmed– the Cuban criminal gangs at the service of organizations in the US government which, from south Florida systematically assaulted Cuba with total impunity…
Continue Reading A Day of Revolutionary Reaffirmation and en Español
Sister Mama

Mrs. Eric Garner

Alice Walker – To the Po'lice

To the Po'lice
©2014 by Alice Walker

In case you are
wondering
the answer is yes:
you have hurt us. Deeply.
Just as you
intended:
you and those
who sent you.
You do know by now
that you do not send
yourself?
I imagine your Designers
sitting back
in the shadows
laughing
as we weep.
Though usually devoid of feeling,
they are experiencing a sensation
they almost enjoy:
they get to witness, by twisted
enchantment, dozens
of strong black mothers
weeping.
They planned
and nurtured
your hatred and fear
and focused the kill shot.
Then watched you
try to explain
your innocence on TV.
It is entertainment for
them. They chuckle and drink
Watching you squirm.
They have tied you up
in a bag of confusion
from which you
will never escape.
It's true you are white, but you are so fucking poor,
and dumb, to boot, they say.
A consideration that turns
them pink
with glee.
(They have so many uses planned
for the poor, white, and dumb: you would be
amazed).
You and the weeping mothers
have more in common than you might think:
the mothers know this.
They have known you
far longer
than you have known them. After centuries,
even those in the shadows, your masters,
offer little mystery.
If you could
find your true courage
you might risk everything
to sit within a circle, surrounded
by these women. Their eyes red
from weeping, their throats raw.
(They might strike you too, who could swear
they wouldn't?)
Their sons are dead
and it was you
who did the deed.
Scary enough.
But within that enclosure
Naked to their grief
Is where you must center
If you are ever
To be freed.
EARLIER POEM:
Alice Walker – Gather
Gather
©2014 by Alice Walker
for Carl Dix and Cornel West
It is still hard to believe
that millions of us saw Eric Garner die.
He died with what looked like a half dozen
heavily clad
policemen
standing on his body, twisting and crushing
him
especially his head
and neck.
He was a big man, too. They must have felt
like clumsy midgets
as they dragged him down.
Watching the video,
I was reminded of the first lynching
I, quite unintentionally, learned about:
it happened in my tiny lumber mill
town before the cows were brought in
and young white girls
on ornate floats
became dairy queens.
A big man too,
whom my parents knew,
he was attacked also by a mob
of white men (in white robes and hoods)
and battered to death
by their two by fours.
I must have been a toddler
overhearing my parents talk
and mystified by pieces of something
called "two by fours."
Later, building a house,
i would encounter the weight,
the heaviness, of this varying length
of wood, and begin to understand.
What is the hatred
of the big black man
or the small black man
or the medium sized
black man
the brown man
or the red man
the yellow man
in all his sizes
that drives the white lynch mob
mentality?
I always thought it was envy:
of the sheer courage to survive
and ceaselessly resist conformity
enough to sing and dance
or orate, or say in so many outlandish
ways:
You're not the boss
of me!
Think how many black men
said that: "Cracker,* you're not the boss
of me;"
even enslaved. Think of how
the legal lynch mob
not so very long ago
tore Nat Turner's body
in quarters
skinned him
and made "money purses"
from his "hide."
Who are these beings?
Now we are beginning to ask
the crucial question.
If it is natural to be black
and red or brown or yellow
and if it is beautiful to resist
oppression
and if it is gorgeous to be of color
and walking around free,
then where does the problem
lie?
Who are these people
that kill our children in the night?
Murder our brothers in broad daylight?
Refuse to see themselves in us
as we have strained, over centuries,
to see ourselves in them?
Perhaps we are more different
than we thought.
And does this scare us?
And what of, for instance,
those among us
who collude?
Gather.
Come see what stillness
lies now
in the people's broken
hearts.
It is the quiet force of comprehension,
of realization
of the meaning
of our ancient
and perfect
contrariness;
of what must now be understood
and done to honor
and cherish
ourselves:
no matter who
today's "bosses"
may be.
Our passion and love for ourselves
that must at last unite
and free us. As we put our sacrificed
beloveds to rest in our profound
and ample caring:
broad, ever moving, and holy,
as the sea.
*Cracker: from the crack of the whip wielded by slave drivers.
Updated: December 14, 2014
A la Policía
©2014 de Alice Walker
Si por casualidad
se están preguntando
la respuesta es: Sí
nos han herido. Profundamente.
Tal y como
pretendían:
ustedes y aquellos
que los mandaron.
¿Saben ustedes ya
que no actúan
por voluntad propia?
Imagino a sus dirigentes
sentados
a la sombra
riéndose
mientras lloramos.
Aunque normalmente faltos de sentimiento
están experimentando una sensación
que casi disfrutan:
consiguen presenciar, por torcido
encantamiento, docenas
de fuertes mujeres negras
llorando.
Ellos planearon
y nutrieron
el odio y el miedo de ustedes
y enfocaron el disparo de muerte.
Entonces los vieron a ustedes
tratando de explicar
su inocencia en la televisión.
Es entretenimiento para
ellos. Ríen y beben
viéndolos humillarse.
Los han atado a una
bolsa de confusión
de la cual
nunca escaparán.
Verdad que ustedes son blancos,
pero son tan jodidamente pobres
y tontos para echarlos, dicen.
Una consideración que los pone
rosados
de regocijo.
(Tienen tantas tareas planeadas
para los blancos pobres y tontos: ustedes
se asombrarían.)
Ustedes y las mujeres que lloran
tienen más en común de lo que imaginan:
las madres lo saben.
Ellas los han conocido
por mucho más tiempo
del que ustedes a ellas. Después de siglos
aun esos a la sombra, los amos suyos,
ofrecen muy poco misterio.
Si ustedes pudieran
hallar su real coraje
podrían arriesgarlo todo
para sentarse en círculo, rodeados
por estas mujeres. Los ojos de ellas rojos
de llorar, sus gargantas en carne viva.
(Ellas podrían golpearlos también, ¿quién puede
jurar que no lo harían?
Sus hijos están muertos
y son ustedes
quienes cometieron el hecho.
Bastante amedrentador.
Pero dentro de ese círculo
desnudos al dolor de ellas
es donde deben centrarse
si es que alguna vez
van a ser libres.
~ Traducción al español de Manuel García Verdecia
Efua Dorkenoo

Efua Dorkenoo 1949-2014

Leading Voice Against the Practice of Female Genital Mutilation

To be great means to put our love to work for all of God.

This means Everything. And so you are defined.
The tiny portal of human life itself
must feel our care;
the blameless vulva
through which nations
pass must know our praise
and gratitude.
It must not be harmed.

Thank you, Efua,

sister at the barricades;
we will stand side by side here,
forever. Protecting the people
from themselves;
bearing the dubious gift
of being, for so long, and so
deliberately,
misunderstood. But knowing
in our own bodies
what it means to hurt.

Torture is not culture.

May the light of self love

and understanding
dawn, as tribute
to your Goddess witness
and watchfulness
over all of Life,
divine.

Efua Dorkenoo, presente.

Cutting the Rose, by Efua Dorkenoo 1996

Possessing the Secret of Joy, by Alice Walker
Warrior Marks: Female Genital Mutilation and the Sexual Blinding of Women, book and film, by Alice Walker and Pratibha Parmar.

*****

Efua Dorkenoo 1949-2014
Voz destacada contra la práctica de la mutilación genital femenina
Ser grande significa poner nuestro amor a trabajar por lo que es de Dios.
Esto significa todo. Y se te define.
El minúsculo portal de la vida humana en sí
debe sentir nuestro cuidado;
la inocente vulva
por la cual las naciones
pasan debe saber nuestro aprecio
y gratitud.
No debe ser dañada.
Gracias, Efua,
hermana de las barricadas;
estaremos codo con codo aquí,
para siempre. Protegiendo a la gente
de ellos mismos;
soportando el dudoso don
de ser, por tanto tiempo, y tan
deliberadamente,
mal entendido. Pero sabiendo
en nuestros propios cuerpos
lo que significa herir.
Torturar no es cultura.
Que la luz del amor propio
y el comprensión
alboreen, como tributo a
al testimonio y vigilancia
de tu Diosa
sobre toda la vida,
divina.
Efua Dorkenoo, presente.
Sister
En español Hermana – ¡Manos arriba, no compres!

Source: Nation of Change
What you have to say, Sister of the arresting sign
is powerful and right. The moment we begin to see
we are being manipulated, set up to riot, to lose our dignity, our freedom and our lives
is the very moment, as if by magic, we begin to see we need not shop. Better to stay in with neighbors surrounding us, and talk things through. What does this time remind us of? Bring out the old movies, books, folks, who can remind us how the trick was always played. How hurt, disillusion, passion, has too frequently seen the best of us in jail. Old tactics that never worked before won't work now, either. Anger to burn something, anything, in our hurt and rage, must be befriended by our understanding of reality, and taught to spare our own houses and those of anyone. Who destroys a home, a neighborhood, destroys a world that ancestors and older relatives, neighbors and friends, have worked to build. It does not matter if it is poor; we know love, friendship, laughter, joy exist among the poor, regardless of where they live. Now is the time to think, to study, to learn. * To move forward in consensus. To recognize provocateurs and leave them in the shadows where they belong, while we seek light. New tactics, new Peace. Support local stores; walk together, knowing you are loved.

*Lesson plan #1: As we know, our police are regularly sent to Israel for training in "anti-terrorist" activity. (Google). In this recent documentary by David Sheen we see how black people in Israel are treated. Like dogs, as one man is quoted as saying. These videos are priceless in their ability to connect the dots on many levels, psychological and otherwise, which could mean discussions of depth and insight into the smallness and inter-relatedness of our planet. Also the age-old use of smoke and mirrors to confuse the unobservant.
Lesson plan #2: Anonymous – # Op Anon. Verdict. Justice is Coming: What does it mean when the most principled response to the police murder of our people comes from "Anonymous"? YouTube.
The Truth About Reptilians by George Carlin on YouTube. What a "comedian" can do to enlighten and teach. As well as make us laugh when we've cried long enough.

Part II : Black wash and Sex wash:
FOTO: "¡Manos arriba, no compres!
FUENTE: Nación de Cambio (Nation of Change)
Lo que tienes que decir, hermana del deslumbrante cartel, es poderoso y correcto.
En el momento en que comencemos a ver
que nos están manipulando, animando a los disturbios, a perder nuestra dignidad, nuestra libertad y nuestras vidas,
es el momento exacto en que, como por magia, comenzamos a ver que necesitamos dejar de comprar. Es mejor quedarnos junto a los vecinos que nos rodean y hablar en detalle de los asuntos. ¿De qué nos recuerda este tiempo? Saquen las viejas películas, los libros, la gente que pueda recordarnos cómo se hizo trampa siempre. El modo en que el dolor, la desilusión, la pasión, ha visto demasiado frecuentemente a los mejores de nosotros en la cárcel. Las viejas tácticas que nunca funcionaron antes no funcionarán ahora tampoco. La ira para quemar algo, cualquier cosa, en nuestro dolor y rabia, debe amistarse con nuestra comprensión de la realidad y enseñarla a perdonar nuestros propios hogares y los de cualquiera. El que destruye una casa, un barrio, destruye un mundo que los antepasados y los más viejos familiares, vecinos y amigos, trabajaron para construirlo. No importa si es pobre; sabemos que el amor, la amistad, la risa, la alegría existen entre los pobres, con independencia a donde vivan. Este es el momento para pensar, estudiar, aprender.* Para movernos adelante en consenso. Para reconocer a los provocadores y dejarlos en las sombras a donde pertenecen, mientras nosotros buscamos la luz. Nuevas tácticas, nueva paz. Apoyen las tiendas locales. Anden juntos, sabiendo que son amados.
* Plan de lección 1: Como sabemos, nuestros policías normalmente son enviados a Israel para ser entrenados en actividades "antiterroristas". (Google). En este reciente documental de David Sheen vemos cómo son tratadas las gentes negras en Israel. Como perros, tal y como un hombre se cita que dice. Estos videos son invaluables en su habilidad para conectar los puntos en muchos niveles, psicológicos y otros, que podría significa el debate de profundidad y percepción en la pequeñez e interrelación de nuestro planeta. También al antiguo empleo del humo y los espejeos para confundir a los poco observadores.
Plan de lección #2: Anónimo. Operación anónimo. Veredicto. La justicia ya llega. ¿Qué significa que la respuesta de principios al asesinato por la policía de nuestra gente venga de anónimos? YouTube.
La Verdad Sobre los Reptiles de George Carlin en YouTube. Lo que un comediante puede hacer para iluminar y enseñar. Tanto como hacernos reír cuando hemos llorado pro tanto tiempo.
November 2014

UPDATED LINK TO VIEW FILM:

Revolution and Religion: a Dialogue Between Cornel West and Bob Avakian

©2014 by Alice Walker

If the murder of our youth is considered insignificant to those in American society who make the laws, those of us who love the children, and their parents, and ourselves, must awaken to the reality that the political system we find ourselves prisoners of must be abandoned. What is to be done?

This question is approached with courage, dignity, and clarity in this conversation between Cornel West, a Christian revolutionary, and Bob Avakian, a Communist revolutionary. The way will not be easy, but when has it ever been? We will not all agree, on anything, but when has that not been so? Rage, I believe, has no future. Destruction is not a cure. Calling people the names of innocent and quite decent animals is really beneath us as offspring of those regularly called everything but children of God. As they phrased it so poetically. What do I believe shifts reality: deep study of the causes of our suffering, helpfulness toward those we see are struggling, teaching the illiterate to read, feeding those without food, clothing those without clothes. Housing the homeless. In my opinion the saying attributed to Marx "From each according to his ability and to each according to his need" would not seem out of place among some of the teachings in The New Testament, itself a manifesto. Both Christians and Communists have been mocked and derided by masses of humans, as they strove to climb over others to get to the top of the hill. We can look at their essential offerings again, in light of this historic dialogue between brother Avakian and brother West. Our lives on this planet, and the life of the planet itself depend on our ability to learn how to study as well as protest. That is why, in the Sixties, students who were arrested in the South, carried their books with them to jail. That is why, in Mississippi, we considered teaching reading and writing a fundamental act of rebellion.

We will probably never, as a people, relinquish our solidarity with Jesus. And why should we? Jesus was a revolutionary himself. Chasing the money lenders out of the temple isn't all he did. Get to know this man, this spirit, deeply, not as a sacrificial lamb hanging on a wall, but as an exemplar of compassion, empathy and courage. And fierce intellect. A public intellectual, indeed. Realize he is born over and over again, as well, in all people who hold the characteristics he embodied.

Get to know why Communism is so maligned. In hindsight it is almost amusing to consider how "Godless Communism" was the phrase that most impressed many people away from the study of Communism, when in fact the crushing of Communism was about the rich being determined, by whatever murderous means necessary, to keep their wealth. Does anyone today believe the owners of most of the stolen wealth in the world care about God?

Thank you, brothers West and Avakian, for this ray of light. We shall know the truth, if it is the last thing we ever know. And who knows what future for humanity lies beyond our knowing.

Updated December 2, 2014

Revolución y religión: un diálogo entre Cornel West y Bob Avakian

©2014 de Alice Walker

Si el asesinato de nuestros jóvenes se considera insignificante por aquellos que en la sociedad estadounidense hacen las leyes, aquellos que aman los niños y sus padres y nosotros mismos debemos despertar a la realidad de que el sistema político en que nos hallamos prisioneros debe abandonarse. ¿Qué debe hacerse?

Esta pregunta es asumida con valentía, dignidad y nitidez en esta conversación entre Cornel West, un cristiano revolucionario, y Bob Avakian, un comunista revolucionario. El camino no será fácil, pero ¿cuándo lo ha sido? No todos estaremos de acuerdo en alguna cosa, pero ¿cuándo no ha sido así? La ira, creo, no tiene futuro. La destrucción no es una cura. Llamar a la gente por el nombre de animales inocentes y bastante decentes queda en realidad por debajo de nosotros como descendientes de aquellos a quienes normalmente llaman cualquier cosa menos hijos de Dios. Como ellos tan poéticamente lo dicen. ¿Qué es lo que considero que cambia la realidad? El profundo estudio de las causas de nuestro sufrimiento, el apoyo a aquellos que vemos que están luchando, la enseñanza de los analfabetos a leer, la alimentación de los que no tienen comida, el vestir a quienes no tienen ropas, el dar viviendas a los que no las tienen. En mi opinión, la frase atribuida a Marx, "De cada cual según su capacidad a cada cual según su necesidad", no parecería fuera de lugar entre las enseñanzas del Nuevo Testamento, un manifiesto en sí mismo. Tanto los cristianos como los comunistas han sido desdeñados y ridiculizados por masas humanas, mientras se esforzaban por escalar sobre otros para llegar a la cima de la montaña. Nosotros podemos mirar a sus creaciones de nuevo a la luz de este diálogo histórico entre el hermano Avakian y el hermano West. Nuestras vidas en este planeta y la propia vida del planeta dependen de nuestra habilidad para aprender cómo estudiar y cómo protestar también. Es por eso que en los 60, estudiantes que eran arrestados en el Sur llevaban con ellos sus libros a la cárcel. Es por eso que en Mississippi, considerábamos el hecho de enseñar a leer y escribir un acto fundamental de protesta.

Probablemente como personas nunca abandonaremos nuestra solidaridad con Jesús. Y ¿por qué hemos de hacerlo? Jesús mismo fue un revolucionario. Echar a los usureros del templo no es lo único que hizo. Debemos conocer a este hombre profundamente, no como un cordero expiatorio que cuelga de la pared, sino como un ejemplo de compasión, empatía y coraje. Y de intenso intelecto. Un intelectual público en realidad. Percatémonos de que él renace una y otra vez, también, en todas las personas que poseen las cualidades que él personaliza.

Debemos conocer por qué el comunismo ha sido tan calumniado. En retrospectiva es casi divertido pensar que el "comunismo impío" fue la frase que mayormente alejó a la gente del estudio del comunismo, cuando de hecho el aplastamiento del comunismo consistía en la determinación de los ricos, por cualesquiera criminales medios que fueran necesarios, a mantener su riqueza. ¿Hay alguien hoy que crea que a los dueños de la mayoría de la riqueza robada en el mundo les interesa Dios?

Gracias, hermanos West y Avakian, por este rayo de luz. Debemos saber la verdad. Aunque sea la última cosa que sepamos para siempre. Y quién sabe qué futuro espera a la humanidad más allá de nuestro conocimiento.
Boys for Sale (What truly grown-up men discuss)
What is to be done? Who is to do it?
©2014 by Alice Walker
My friend says to me:
But what can we do? Already giving up.
To be aware is already something,
I say. Consciousness rarely
leaves us unmoved. Or unmoving.
And so it is with this revelation
of what has been happening
to our children, all of them,
and especially to our boys.
The beast in so-called
civilized man
is more lethal, sinister,
grotesque and cunning
than I would have believed:
And what is it, anyhow, this beast?
How does it manifest
in every age
to plague our republic
from shadows
it projects
as light?
We are presented here
with four men who may, in their
simplicity, signal
a beginning of the end of our acute
obliviousness:
Four men sitting on metal folding chairs
talking together, almost forty years ago;
saying what they have witnessed,
what they have surmised,
what they have feared;
hearing each other out. Taping
themselves. Sharing this, all these years later,
with us, who thought we had heard it all.
This is what I believe truly grown-up men
should do. Feel deeply. Be present
to the steeply challenged life of the young. Care about children,
whether boys or girls, and not only about your own.
Sit together, as these
men do:
become determined
to liberate us
from our fantasy
of a society that cares:
Be resolved as Buddhas
to find a way through.
To sit a lifetime
if need be
on hard chairs.
Youtube Source: Video Boys for Sale 1 of 2 , Video Boys for Sale 2 0f 2
Youtube Source as of August 2015: Documentary Boys for Sale
NIÑOS A LA VENTA
(Lo que en realidad discuten los hombres en verdad adultos)
¿Qué debe hacerse? ¿Quién debe hacerlo?
©2014 de Alice Walker
Mi amiga me dice:
Pero ¿qué podemos hacer? Ya cediendo.
Estar consciente es ya algo.
le digo. La conciencia raras veces
nos deja inconmovibles. O no conmovedores.
Y así sucede con la revelación
de lo que ha estado sucediendo
a los menores nuestros, a todos,
y en especial a los niños.
La bestia en el llamado
hombre civilizado
es más letal, siniestra,
grosera y astuta
de lo que hubiera creído.
Y ¿qué es después de todo esta bestia?
¿Cómo se manifiesta
en cada época
para infestar nuestra república
de sombras
que proyecta
como luz?
Nos presentan aquí
cuatro hombres que pueden, en
su sencillez, señalar
un inicio del fin de nuestro inclemente
olvido:
Cuatro hombres sentados en sillas plegables de metal
que hablan entre ellos, hace casi cuarenta años;
diciendo lo que han presenciado,
lo que han conjeturado,
lo que han temido;
escuchándose unos a otros. Grabándose
ellos mismos. Compartiendo esto, tantos años después,
con nosotros que creíamos haber oído todo.
Es lo que creo que los hombres de verdad adultos
deben hacer. Sentir hondamente. Estar presentes
ante la abruptamente asediada vida de los jóvenes. Preocuparse
de los menores
sean niños o niñas y no solo por los suyos.
Siéntense como hacen
estos hombres:
decídanse
a librarnos
de nuestra ilusión
de una sociedad que se preocupa
Sean resueltos como Budas
a encontrar un camino de salida.
A sentarse una vida entera
de ser necesario
sobre duras sillas.
###
Farrakhan At Tuskegee: An Elder Speaks On Depopulation
Depopulation Blues
©2014 by Alice Walker
It makes you think
of years gone by
when we dreamed
whatever we could not imagine:
but we could never, "useless eaters," have dreamed or imagined
this. We might have done a better job
of imagining it
if we were different beings
and not so forgiving of the coldness
that has always been our reception
in these parts.
What could not be imagined
is how it would be done;
we knew greed and stinginess
combined would mean their elimination of us
would be
at our own expense.
Evil can be brilliant, though, it will find a way;
we are not fools
completely
to be seduced by it.
Ford, Nixon, Carter,
Reagan, perhaps all
the others
knew we were counting on them
to be human as we are. Though why 800,000 Rwandans
died while we watched a televised presidential
sex scandal might have told us something. That politicians
who smiled at us and kissed our babies
blue eyes shining with triumph
well knew we were falling
into our graves
kicked by them
as they counted
our votes.
Blues de la despoblación
©2014 de Alice Walker
Traducio por Manuel Verdecia Garcia
Te hace pensar
en años pasados
cuando soñábamos
lo que fuera que no podíamos imaginar:
pero jamás pudimos, inútiles comilones,
haber soñado o imaginado
esto. Quizás pudimos hacerlo mejor
al imaginarlo
si éramos seres diferentes
y no tan indulgentes de la frialdad
que ha sido siempre nuestra acogida
en estas partes.
Lo que no se podía imaginar
es cómo habría de hacerse.
Sabíamos que la avaricia y la mezquindad
juntos implicarían que ellos nos eliminaran
que sería
a expensas nuestras.
El mal puede ser brillante, no obstante, hallará su modo. No somos
tontos
completamente
para dejarnos seducir por eso.
Ford, Nixon, Carter,
Reagan, tal vez todos
los otros
sabían que contábamos conque ellos
serían humanos como nosotros. Aunque el porqué 800 000 ruandeses
morían mientras veíamos un televisado escándalo
sexual presidencial podía habernos dicho algo. Que los políticos
que nos sonreían y besaban nuestros niños
los ojos azules brillantes de triunfo
sabían bien que estábamos cayendo
en nuestras tumbas
pateados por ellos
mientras contaban
nuestros votos.
Banning Cruelty

This truck contains "skunk" spray. Used on humans, including children going to school.

https://www.youtube.com/watch?v=oOzTiLrEIHE

Banning Cruelty

©2014 by Alice Walker

Repelled by cruelty

let us ban it

from our hearts.

If we feel sad, bereft,

as if we have nothing good

to live for

think of the heart

behind these wheels-

a heart that smells

of what it carries.

Whatever else may be happening

in our perhaps blighted life:

we do not have to drive

this truck.

Prohibiendo la crueldad

©2014 por Alice Walker

Repugnados por la crueldad

prohibámosla

de nuestros corazones.

Si nos sentimos tristes, afligidos,

como si no tuviésemos nada bueno

por lo que vivir

pensemos en el corazón

detrás de estas ruedas,

un corazón que huele

a lo que porta.

Cualquier otra cosa puede estar pasando

en nuestra quizás malograda vida;

no tenemos que conducir

este camión.

Traducio por Manuel Verdecia
Leonard Cohen: Story of Isaac
THESE CHILDREN IN JAIL
230 Palestinian children in prison
Burnt Offerings
©2014 by Alice Walker
Some realities drive us to our knees
and since I was there
already
before my altar
I unwrapped and lit
the beeswax candles
I acquired for you.
My hope is you have never heard
the story of Hansel & Gretel
the trail of bread crumbs
the witch's cages
filled with children;
the big black pot
and the cooking fat.
Never overheard elders
whisper of foreign customs
that honor
capture of children
and their sacrifice.
The lump of terror
I feel in my own heart
must be magnified
in yours.
In this cage,
seeing how many there are of you,
where would you sleep? And how?
I ask myself this, as I toss and turn.
Remembering too, the great Winnie Mandela
who endured almost a year
of solitary confinement
in a South African prison.
Three ants became her friends
as she used a bucket
like the one I see you have
for night waste (the bottom)
and for food (the lid).
When she emerged from prison
a frightfully different woman,
few South Africans
appeared to consider
the isolation, the humiliation, and the company
she had kept.
What must you think
of us, little ones?
Grownups powerless
to get you out.
What must you feel
as day by day goes by
without parents or community
(a burnt offering that perhaps you witnessed;
as fire rained from the sky )
coming to claim you.
Until
now it is only
awareness 
of the 
utter
brokenness
of your small lives
that regularly 
comes 
to visit you.
What is missing from this photograph are the grownups who forced the children inside the cage. Let us consider them, and send them collectively, around the planet, all our thought. Recognizing as we do so that this was not necessarily their idea. What would we do?
Ofrendas Quemadas
©2014 por Alice Walker
Traducio por Manuel Verdecia Garcia
Ciertas realidades nos ponen de rodillas
y como yo estaba
ya allí
ante mi altar
desenvolví y encendí
las velas de cera
que adquirí para ustedes.
Espero que nunca hayan oído
el cuento de Hansel y Gretel
el rastro de migas de pan
las jaulas de la bruja
llenas de niños,
la enorme olla negra
y el aceite hirviente.
Que nunca escuché adultos
murmurar de costumbres extranjeras
que dignifique
la captura de niños
y su sacrificio.
El nudo de terror
que siento en mi corazón
debe aumentar
en el de ustedes.
En esta jaula,
viendo cuántos hay de ustedes,
¿dónde dormirán? ¿y cómo?
me pregunto mientras doy vueltas en la cama.
También recuerdo la gran Winnie Mandela
que soportó casi un año
de confinamiento solitario
en una prisión de Sudáfrica.
Tres hormigas se hicieron sus amigas
mientras usaba un cubo
como el que veo que ustedes tienen
para los desechos nocturnos (la vasija)
y para la comida (la tapa).
Cuando salió de la prisión
una mujer terriblemente distinta,
pocos sudafricanos
parecían considerar
el aislamiento, la humillación y la compañía
que había tenido.
¿Qué deben pensar
de nosotros, pequeños?
Adultos impotentes
para sacarlos de ahí.
¿Qué deben sentir
mientras pasa un día y otro
sin padres ni comunidad
(una ofrenda quemada que tal vez presenciaron
mientras llovió fuego del cielo)
que vengan a reclamarlos.
Hasta
ahora es solo
la conciencia
de la
total
rotura
de sus pequeñas vidas
la que regularmente
viene a visitarlos.
Lo que falta en esta fotografía son los adultos que obligaron a los niños a meterse en la jaula. Considerémoslos y enviémosles colectivamente, alrededor del mundo, todo nuestro pensamiento, reconociendo al hacerlo que esta no fue necesariamente una idea de ellos. ¿Qué haríamos nosotros?
Source link to article entitled:

"Bhutan Makes Condoms Available To Buddhist Monks To Stop Spread Of STDs"

A Blessing
©2014 by Alice Walker

Between those
who are old enough
and those who care
Sex is not a sin
it is a door.
Through that door
we may understand
"God"
Self
& Universe.
Passion is the great
Instructor.
Some creature
so long ago
we have forgotten
his scaly
embrace
forced us to tear ourselves
away
from what we feel
or do not feel.
Away from feeling,
or not feeling
what we know.

We will end this now.

Una bendición
©2014 por Alice Walker
Traducio por Manuel Verdecia Garcia

Entre aquellos
que son bastante mayores
y aquellos que se preocupan
el sexo no es un pecado
es una puerta.
Por esa puerta
podemos comprender
el Ser
de Dios
y el Universo.

La pasión es la gran
Maestra.
Cierta criatura
hace mucho tiempo
que hemos olvidado
su abrazo
escamoso
nos forzó a separarnos
de lo que sentimos
o no sentimos.
Lejos de sentir
o no sentir
lo que conocemos.

Acabaremos esto ahora.
Link to article entitled,
"Police Arrest 90-Year-Old and Two Pastors for Feeding Homeless People"
The Place Most Hidden
The Place Most Hidden
©2014 by Alice Walker
Here it is,
the place we were most hidden;
now out front
in open view of all.
Your great country
that hates you for being poor;
though it has seen to it
very deliberately
that you were robbed.
-AW
El Sitio Más Oculto
Por Alice Walker
Traducio por Manuel Verdecia Garcia
Aquí está,
el sitio donde estábamos más ocultos;
ahora expuesto
a la vista de todos.
Su gran país
que los odia por ser pobres,
aunque se ha ocupado
muy deliberadamente
de que a todos les robaran.
UNDERSTANDING WHO WE, and THEY, MIGHT BE

I have traveled quite enough in my lifetime and most days the greatest bliss I can imagine is being home before a cozy fire, a sweet human nearby, or the same sweet human absent for a spell; reading perhaps, or napping, while being serenaded by a couple of lovely snoring dogs.

But I wish I had been at Wembley Arena in London October 25th to listen to David Icke hold forth for ten hours.

Icke is a rare, free, being; he just gets out there and says what he thinks about what he's found out. It's unusually thrilling. While waiting for the October 25th event to become available on Youtube I watched the March 2014 talk, Remember Who You Are, which I found exhilarating. Whatever happens to David or to any of us, we've been brought into the realm of an entirely different interpretation of life on the planet than the one with which we were raised. I find it exciting, scarily fresh, definitely liberating. I am immensely grateful.
Exopermaculture
Bridging/Blending Above and Below
David Icke AWAKENS 12,000 in 10 hours: Wembley Stadium, October 25, 2014
Posted on October 30, 2014 by Ann Kreilkamp
For deep background research into original manuscript sources of the gnostic depiction of the cyborg ET "archon" intrusion, you might want to read what was, for me, a paradigm-shattering book, Not in His Image: Gnostic Vision, Sacred Ecology, and the Future of Belief (2006), by John Lamb Lash. David Icke is no longer the "lone nutter" that this former popular sportscaster was labeled, back in 1991, when he first stepped into the limelight in a new way, by courageously presenting his research results despite knowing the inevitable ridicule with which it — and he — would be greeted. His example is one we can all appreciate, learn from, and emulate as we break out of the "bubble" that has kept us imprisoned for so long. Depending on our unique gifts and talents, each of us has a special role to play during the coming years when, like a beautiful flower blooming, by following the Laws of Nature humanity self-organizes into planetary healing and harmony. AWAKENs Source article
David Icke Exposes The Archon Conspiracy And The Crumbling Matrix
AWAKEN at Wembley Arena, 25th Oct 2014
October 28, 2014
by Anna Bragga
© Twitter – Wembley performance saw Icke hold audience in the palm of his hand for ten hours
One of the world's most loved and mocked public figures; the former BBC TV sports presenter, author and speaker, David Icke…Continue Reading David Icke AWAKEN UNDERSTANDING WHO WE, and THEY, MIGHT BE also (en Español)
September/October 2014
Meridian Seminar
A recent seminar on my 1976 novel, Meridian , arranged by Robert Cohen, author of the much anticipated and highly praised Freedom's Orator: Mario Savio, and the Radical Movements of the 1960s, gave me the opportunity to look back at that book, as I had not done, possibly, ever. In speaking with the alertly interested young UC students around me, I was reminded of what I had wanted, all those years ago, to show: that the "meaning" of the Civil Rights Movement in that novel, was, above all, that it was a training ground for the recognition and use, to our own benefit, of our collective compassion and love; and, as well, a preparation for the full and free future use of our individual and/ or collective voice. That the political structure of the US, comprised then as now of almost identical parties, both unfair where race was concerned in the Sixties – when one risked being murdered for attempting to vote – and as it exists now – when one's right to vote as a black or poor person can be denied on the basis of almost anything dreamed up – is patently absurd. Which is why there has been an ongoing, seemingly endless sense of futility among those who deeply ponder such things.
I pointed out places in the novel where this idea is obvious: Meridian Hill, the protagonist, faces down a tank (in Jackson, Mississippi the tank used against black non-violent protesters was named for the Mayor, whose last name was Thompson: hence, Thompson's tank) in order to take black school children to see a mummified white woman whose husband prostitutes her body, by showing it off for money, in the small towns of the South. Children of color are allowed to see this spectacle only on Thursday, the day set aside for Colored. Meridian takes them to see the mummy on a Tuesday, risking arrest. They discover the "mummy" is a fake. What is Meridian teaching? Not that we all have the same right to go anywhere, regardless of skin tone, but that once there we can see for ourselves it isn't worth the trouble.
Or, when, toward the end of the novel, a woman old enough to have forgotten sex is convinced by her equally ancient sister that she was impregnated by an old man passing by who perhaps put his hand on her neck. Meridian, intuiting the dynamics of the rivalry between the sisters, helps the old woman push her colossal bed of sin out of her house and set it on fire. Then she asks her if she'll risk what life she has left to come to the courthouse and register to vote. The vote is as delusional as the pregnancy, so what is happening?
Love, compassion, solidarity with our people in all forms of craziness.
Early in the book an old black man who has been pushing a broom one feels for generations, sums up the black experience with the political structure of America: "I seen rights come and I seen'em go." Meridian, the novel, is about acknowledging this more than three centuries of shifting sand, saying enough!, freeing ourselves of our delusions, addictions, illnesses of whatever sort, and moving on to join the rest of an awakening world.
Seminario sobre Meridiana
Un reciente seminario sobre mi novela de 1976, Meridiana , organizado por Robert Cohen, autor del muy esperado y altamente elogiado libro El orador de la libertad: Mario Flavio y los movimientos radicales de los 1960 , me dio la oportunidad de volver la mirada a ese libro, tal vez como no lo había hecho, posiblemente, nunca antes. Mientras conversaba con los vivamente interesados jóvenes estudiantes de la Universidad de California a mi alrededor, me recordaron de lo que había querido mostrar todos esos años atrás: que el "significado" del Movimiento por los Derechos Civiles en esa novela fue, sobre todo, que este resultó un campo de entrenamiento para el reconocimiento y el uso, para nuestro propio beneficio, de nuestros compasión y amor colectivos, así como una preparación para el total y libre uso futuro de nuestras voces individuales y/o colectivas. Que la estructura política de los Estados Unidos, compuesta entonces como ahora por casi idénticos partidos, ambos injustos en lo concerniente a la raza en los 60 (cuando uno podía arriesgarse a ser asesinado por tratar de votar) y tal y como la que existe ahora (cuando el derecho de uno a votar como persona negra o pobre puede ser negado sobre la base de prácticamente cualquier cosa que se pueda soñar) es evidentemente absurda. Es por ello que ha habido un creciente, y al parecer, inacabable sentido de inutilidad entre aquellos que reflexionan profundamente sobre estos asuntos.
Destaqué lugares en la novela donde esta idea resulta obvia: Meridiana Hill, la protagonista, se enfrenta a un tanque (en Jackson, Mississippi, el tanque que se empleaba contra los manifestantes negros llevaba el nombre del alcalde, cuyo apellido era Thompson: el tanque Thompson) con el objetivo de llevar a los niños negros escolares a ver una mujer blanca momificada cuyo esposo prostituye su cuerpo al mostrarlo por dinero por los pequeños pueblos del Sur. A los niños negros solo se les permite ver este espectáculo los jueves, el día designado para los de color. Meridiana los lleva a ver la momia un martes, arriesgándose a ser arrestada. Ellos descubren que la momia es una falsificación. ¿Qué les está enseñando Meridiana? No que todos tenemos el mismo derecho de ir a cualquier parte independientemente del color de la piel, sino que una vez allí nos percatamos de que no vale la pena la complicación.
También cuando, hacia el final de la novela, una mujer lo suficientemente vieja como para haber olvidado el sexo queda convencida por su igualmente vieja hermana de que ha quedado fecundada por un viejo que pasaba cerca quien, tal vez, le puso su mano sobre el cuello. Meridiana, adivinando la intensidad de la rivalidad entre las hermanas, ayuda a la vieja a sacar la cama del pecado fuera de la casa y pegarle fuego. Luego le pregunta si arriesgaría lo que sea que le quede de vida por venir al juzgado e inscribirse para votar. El voto es tan ilusorio como la preñez, de modo que ¿qué sucede?
El amor, la compasión, la solidaridad con nuestra gente en todas las formas de locura.
Hacia los inicios del libro un viejo negro que ha estado empujando una escoba, le parece a uno que por generaciones, resume la experiencia de los negros con la estructura política de los Estados Unidos: "He visto los derechos venir y los he visto irse". Meridiana, la novela, trata sobre el reconocimiento de estos más de tres siglos de arenas movedizas, diciendo "¡No!" Liberándonos de nuestras ilusiones, adicciones, dolencias de cualquier tipo y avanzando a unirnos al resto de un mundo que despierta.
Code Pink for Peace

Campaign to stop the US-based real estate company RE/MAX from selling Israeli settlement homes

October 30, 2014
Dear Everyone,
The Israeli government announcement that it was building another 1,000 settlement homes in occupied East Jerusalem was met with worldwide condemnation, including an Emergency UN Session on Wednesday. If you are outraged and want to do something about it, join us in our new campaign to stop the US-based real estate company RE/MAX from selling Israeli settlement homes.
Settlements have displaced thousands of Palestinian families in Jerusalem and the West Bank, and are illegal under international law. We've reached out to the Chairman of the RE/MAX Board of Directors to call on RE/MAX Israel to halt the selling of settlement properties, but he has ignored us.
Help us make our voices heard: Send a letter to Dave Liniger, the Chairman of the Board at RE/MAX and tell him to put an end to the sale of settlement homes by RE/MAX Israel!
After you've sent a letter to the Chairman, call RE/MAX headquarters (303-770-5531) to register a complaint…
Continue Reading, U.S. Based RE/MAX RE/MAX from selling Israeli settlement homes.
AWAKE, a film about Yogananda
AWAKE, a film about Yogananda
©2014 by Alice Walker
When my partner and I left the movie theatre recently, having seen AWAKE, the new film about Paramahansa Yogananda, he said he felt he'd just emerged from a five day retreat. I felt the same. It is a mesmerizing film about a very special being, someone those of us who value the practice of yoga should bow to every day. He is largely responsible for bringing Kriya Yoga and Meditation to America and in his book THE AUTOBIOGRAPHY OF A YOGI he reveals some of the trials and triumphs of that feat.
The film covers a lot of ground. But certain moments stand out: the time, at eleven, when Yogananda's mother dies suddenly on a visit away from home: the brutal impact of this loss on the psyche means, among other things, that he must always now recognize dream from reality. His mother is gone. Forever. Dreaming of her will not bring her back…
Continue Reading AWAKE, A film about Yogananda
Party People at Berkeley Rep
What would the world look like if everyone demanded honest history: that is to say, the truth?
I treasure this play because, finally, that is what the people involved in its creation decided is the best legacy to leave the young, the best reality to share among ourselves. I saw a review that considered the production "Flawed But Riveting;" I immediately thought how that description fits humanity.
At the beginning of the first act the frenetic dance and loud music seems much to bear, also the display of guns. Later it becomes clearer that we are being prepared, watching the play, to separate individuals from images of them created by or captured by a media that can never affirm the hopeful and caring, not infrequently naive, but deeply loving heart of the revolutionary in confrontation with a merciless state.
Hardest to watch is how Black Panthers and Young Lords alike were broken; how they were undermined by the FBI and by their own Machismo. How they, who stood so tall, fell into moral slumps and brain scrambled contortions brought on by drugs. How they brutalized one another as their revolutionary love turned to suspicion, hatred and despair.
The directing is brilliant, all the actors are amazing, and the choreography is superb. It was my luck to sit next to the choreographer on opening night and I was able to tell her how sensational I thought her work and how extraordinary her perfume!
Please Google for names of everyone.
Translación, Party People Berkeley Rep:
¿Qué tal se vería el mundo si todos exigieran una historia honesta, o sea, la verdad?
Aprecio altamente esta obra porque, definitivamente, es eso lo que las personas implicadas en su creación decidieron que es el mejor legado para dejarle a los jóvenes, la mejor realidad para compartir entre nosotros. Leí una reseña que consideró la producción "Defectuosa pero fascinante". Inmediatamente pensé en cómo tal descripción se ajusta a la humanidad.
Al principio del primer acto el frenético baile y la música en alto volumen parecen demasiado para soportar, así como la exhibición de armas. Más tarde se hace claro que nos están preparando, al ver la representación, para separar a los individuos de las imágenes de estos creadas o captadas por un medio que nunca puede mostrar el corazón esperanzado y bondadoso, no pocas veces ingenuo, pero profundamente amoroso, del revolucionario en confrontación con un estado despiadado.
Lo más difícil de ver es el modo en que tanto los Panteras Negras como los Jóvenes Lords fueron destruidos; el modo en que fueron minados por el FBI y por su propio machismo; el modo en que, ellos que se irguieron tan alto, cayeron en depresiones morales y en mezclas y retorcimientos mentales debido a las drogas; el modo en que se trataron cruelmente unos a otros a medida que su amor revolucionario se tornó suspicacia, odio y desespero.
La dirección es brillante, todos los actores resultan asombrosos y la coreografía es soberbia. Fue una suerte para mí sentarme al lado de la coreógrafa en la noche del debut y poder decirle de lo sensacional que había sido su labor y de lo extraordinario de su perfume.
Por favor vaya a Google por los nombres de cada uno.
Is the darkness of planet earth pushing us to awaken?
My Neighbor, the Great Being and Artist, Sue Hoya Sellers, Has Left Us To Our Own Devices
Shiloh and Sue in front of the Mona Lisa, Paris, 2014
There is more to come, but here is an offering of spirit to tide us over. Sue's body was cremated this morning at eleven o'clock. Drums sounded from her hillside, and mine, and from the trees came the sweet trumpet sound of Amazing Grace, blown with all his soul, by Kaleo Larson.
Findings of the Recent Extraordinary Session in Brussels, September 2014
Please Read Full Findings of Russell Tribunal held in Brussels on September 24 and 25, 2014
SUPPORT
Support the Russell Tribunal on Palestine and the forthcoming Extraordinary Session in Brussels, 24-25 Sept 2014 investigating Israel's Crimes in the Gaza Strip under International Law.
The Russell Tribunal asks us to remember
A must watch video from Alice Walker making insightful connections in her message to the Russell Tribunal on Palestine who are holding an Extraordinary Session on Gaza on 24-25 Sept in Brussels.
We Say No More

October 2014 – A Month of Resistance

Gather

©2014 by Alice Walker

for Carl Dix and Cornel West

It is still hard to believe

that millions of us saw Eric Garner die.

He died with what looked like a half dozen

heavily clad

policemen

standing on his body, twisting and crushing

him

especially his head

and neck.

He was a big man, too. They must have felt

like clumsy midgets

as they dragged him down.

Watching the video,

I was reminded of the first lynching

I, quite unintentionally, learned about:

it happened in my tiny lumber mill

town before the cows were brought in

and young white girls

on ornate floats

became dairy queens.

A big man too,

whom my parents knew,

he was attacked also by a mob

of white men (in white robes and hoods)

and battered to death

by their two by fours.

I must have been a toddler

overhearing my parents talk

and mystified by pieces of something

called "two by fours."

Later, building a house,

i would encounter the weight,

the heaviness, of this varying length

of wood, and begin to understand.

What is the hatred

of the big black man

or the small black man

or the medium sized

black man

the brown man

or the red man

in all his sizes

that drives the white lynch mob

mentality?

I always thought it was envy:

of the sheer courage to survive

and ceaselessly resist conformity

enough to sing and dance

or orate, or say in so many outlandish

ways:

You're not the boss

of me!

Think how many black men

said that: "Cracker,* you're not the boss

of me;"

even enslaved. Think of how

the legal lynch mob

so long ago

tore Nat Turner's body

in quarters

skinned him

and made "money purses"

from his "hide."

Who are these beings?

Now we are beginning to ask

the crucial question.

If it is natural to be black

and red or brown

and if it is beautiful to resist

oppression

and if it is gorgeous to be of color

and walking around free,

then where does the problem

lie?

Who are these people

that kill our children in the night?

Murder our brothers in broad daylight?

Refuse to see themselves in us

as we have strained, over centuries,

to see ourselves in them?

Perhaps we are more different

than we thought.

And does this scare us?

And what of, for instance,

those among us

who collude?

Gather.

Come see what stillness

lies now

in the people's broken

hearts.

It is the quiet force of comprehension,

of realization

of the meaning

of our ancient

and perfect

contrariness;

of what must now be understood

and done to honor

and cherish

ourselves:

no matter who

today's "bosses"

may be.

Our passion

and love for ourselves

that must at last

unite

and free us. As we lay our sacrificed

beloveds to rest

in our profound

and ample caring :

broad, ever moving,

and holy ,

as the sea.

*Cracker: from the crack of the whip wielded by slave drivers.

Júntense

©2014 por Alice Walker

Para Carl Dix and Cornel West

Traducio al Español por Mañuel Verdecia

Todavía es duro pensar

que millones de nosotros vimos morir a Eric Garner.

Murió con lo que parecía media docena

de policías

fuertemente equipados

parados junto a su cuerpo, torciéndolo y golpeándolo

especialmente en su cabeza

y cuello.

Era un hombre corpulento. Debieron sentirse

como torpes enanos
mientras lo arrastraban.

Al ver el video

recordaba el primer linchamiento

del que, casi involuntariamente, supe:

ocurrió en mi pequeño pueblo

con aserradero antes que trajeran las vacas

y jóvenes blancas

en adornadas camionetas

se volvieran reinas de lecherías.

Era igual un hombre enorme

a quien conocían mis padres,

lo atacó también una turba

de hombre blancos (con túnicas y capuchas blancas)
y lo mataron a golpes con
sus "dos por cuatro".

Debo haber sido una bebita

que de pasada oyó a mis padres hablar

perplejos sobre algo que

llamaban "dos por cuatro".

Después construyendo una casa

yo encontraría el peso,

la solidez de esta longitud variable

de madera y empezaría a entender.

¿Cuál es el odio hacia el alto hombre negro

o el pequeño hombre negro

o el mediano hombre negro

el hombre pardo

el hombre rojo

de todos los tamaños

que impulsa la mentalidad de la turba

de linchadores bancos?

Siempre pensé que era envidia

del genuino coraje para sobrevivir

y continuamente rechazar la conformidad

lo bastante como para cantar y bailar

y hacer discursos o decir en tan extrañas

formas:

¡Ustedes no son

mis dueños!

Piensen en cuántos negros

dijeron: "Cracker*, tú no eres

mi dueño",

aun siendo esclavos. Piensen

en cómo la turba linchadora autorizada

hace tanto tiempo

desgarró el cuerpo de Nat Turner

en cuartos

lo despellejaron

e hicieron "monederos"

de su "cuero".

¿Quiénes son estos seres?

Ahora empezamos a hacernos

la pregunta crucial.

Si es natural ser negro

o rojo o pardo

y es hermoso resistir

la opresión

y si es esplendido ser de color

y andar libremente,

entonces ¿dónde reside

el problema?

¿Quiénes son estas gentes

que matan nuestros hijos en la noche

y matan nuestros hermanos a plena luz del día?

¿Rechazan verse en nosotros

como nos hemos forzado, por siglos,

a vernos en ellos?

Tal vez seamos más diferentes

de lo que pensábamos.

¿Y esto nos asusta?

¿Y qué hay, digamos,

de aquellos nuestros

que actúan en connivencia?

Júntense.

Vengan a ver la calma

que hay ahora

en los rotos corazones

de la gente.

Es la quieta fuerza de la comprensión,

de la percepción

del sentido

de nuestra antigua

y perfecta

contrariedad,

de lo que ahora debe entenderse

y hacerse para honrarnos

y apreciarnos,

no importa quiénes

hoy puedan ser

los "jefes".

Nuestra pasión y amor

por nosotros mismos

que debe finalmente

unirnos

y liberarnos. Mientras dejamos descansar

a nuestros sacrificados amados

en nuestro profundo

y amplio cariño:

inmenso, siempre móvil

y sagrado como el mar.

* Cracker: por el chasquido, "crack", que producía el látigo de los que conducían a los esclavos.

All Out for the Month of Resistance to Mass Incarceration, Police Terror, Repression and the Criminalization of a Generation!

Join a daily vigil starting on: Friday, September 12, 5 pm – 7 pm.
Eyewitness: Ferguson's heroic resistance
Excerpt from "Eyewitness: Ferguson's heroic resistance" article: "To hear the news reports or listen to Governor Jay Nixon of Missouri yesterday, you'd think the protesters of Ferguson were bent on looting and destruction, and that a midnight curfew and police were needed to protect the people.
But last night at 12:30 a.m., the dozens of police who amassed on the street to enforce a midnight curfew launched a brutal attack on 75 protesters peacefully standing their ground to demonstrate. First, the police fired multiple tear gas canisters into the middle of the crowd, and dense clouds filled the air.
Next came a fire of rubber bullets, sending those of us in the line of fire to crouch to the ground to avoid getting hit. Several were wounded, one man critical in circumstances still not clear.
The riot came from the cops, not the people." Please read the full article
Happy Birthday Fidel! ~ August 13th
" I believe that unarmed truth and unconditional love will have the final word in reality. This is why right, though temporarily defeated, is stronger than evil triumphant."
-Martin Luther King, Jr.
Above photo: Among other beings of light: two ophthalmologists from NYC, Ramsey Clark, former attorney general of the United States, and Dennis Banks, a founder of AIM, the (North) American Indian Movement
" Cuba's Health Care System: a Model for the World "
Please read the full post, Unarmed Truth and Unconditional Love
July 2014

Letter from Gaza

Ellen Cantarow reports on the email Dr. Mads Gilbert sent to friends July 19 from Gaza. "The last night was extreme.

The email Mads Gilbert, professor of medicine at the University of North Norway (Tromso), sent to a friend on July 19 was a cri de coeur . He had spent two weeks in Gaza during Israel's Operation Cast Lead attack in the winter of 2008-09, tending to the wounded and the dying in Al-Shifa hospital, and again for another week during a similar assault (Operation Pillar of Cloud) in 2012.

As then, Gilbert is now once again caring for streams of patients rushed into Al-Shifa (the name means "healing") from the Gaza killing fields. I reproduce the email in its entirety because it is the first lengthy account by a physician writing directly from a hospital about the region's injured and dying in the course of Israel's latest hostilities. Al-Shifa has been under bombardment and shellfire; other health care facilities as well as ambulances and medical personnel have been attacked. Gaza's only rehabilitation hospital, Al-Wafa, has been destroyed. "

Please read the full post, Letter from Gaza
Some Light: Thank you, Phylllis Bennis and The Nation. Whew!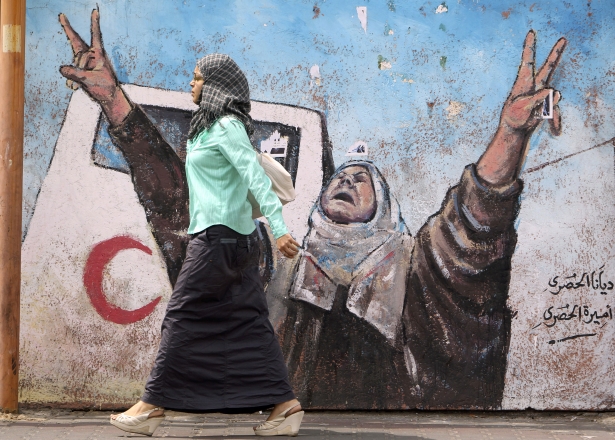 Why Opposing the Israel Lobby Is No Longer Political Suicide
by Phyllis Bennis
July 16, 2014
Our movement isn't strong enough yet to end US enabling of the carnage in Gaza—but the shift in public discourse is a crucial first step. Now we just have to escalate our own work to get on to that next stage. Please read more
You were so thin. This is why we were bringing food.

https://www.europarl.europa.eu/intcoop/sakharov/home_en.html

— EP SAKHAROV PRIZE NETWORK NEWSLETTER

JUNE 2014

Nurit Peled Elhanan draws attention to human rights violations in Palestine

04-07-2014: 2001 Laureate, Nurit Peled Elhanan has drawn the European Parliament's attention to the background of the killing of Israeli and Palestinian teenagers. She has denounced Israeli forces "for 12 hours trying to force the father of Mohammed Abu Khdair to issue a statement it was a family killing on account of his son being gay". It is widely believed that Khdair was murdered in a revenge attack after the discovery of the bodies of three murdered Israeli teenagers Naftali Frenkel , Gilad Shaar and Eyal Yifrach. Ms Peled has also called attention to the case of Uriel Ferrera, 18, who is serving a third prison term "for refusing to be drafted to the Israeli Occupation Army. Since he is a very orthodox Jew, he is being harassed and mocked in prison for his faith, and receives immeasurable punishments". Ms Peled stated "I believe this case of Zionist anti-Semitism should concern people who care for human rights ".

Prof. Nurit Peled-Elhanan

Estabas tan flaco. Es por eso que te traíamos comida. Vea foto arriba.

Nurit Peled Elhanan llama la atención sobre la violación de los derechos humanos en Palestina.

La laureada en 2001, Nurit Peled Elhanan, ha llamado la atención del Parlamento Europeo sobre las circunstancias del asesinato de adolescentes palestinos e israelíes. Ha denunciado a las tropas israelíes por tratar de forzar, durante doce horas, al padre de Mohammed Abu Khdair a emitir una declaración diciendo que se trataba de un asesinato familiar debido a que su hijo era homosexual. Se considera ampliamente que Khdair fue eliminado en un ataque por venganza tras el descubrimiento de los cuerpos de tres adolescentes israelíes muertos Naftali Frenkel, Gilad Shaar and Eyal

Yifrach. La señora Peled también ha urgido a interesarse por el caso de Uriel Ferrera, de 18 años, quien cumple una tercera condena de cárcel por rechazar a ser reclutado para el ejército israelí de ocupación. Como es un judío muy ortodoxo, se le acosa y burla en la prisión debido a su fe y recibe cuantiosos castigos. La señora Peled aseveró, "Creo que este caso de sionismo y antisemitismo debe interesar a las personas que se preocupan por los derechos humanos."
Also: A new bombing of Gaza. Google.
Other news:
Video: WATCH how israeli warplanes attacked Palestinian houses in GAZA

https://972mag.com/nstt_feeditem/video-israeli-police-beat-american-teenager-in-e-jerusalem
https://www.ynetnews.com/articles/0,7340,L-4536477,00.html
https://www.maannews.net/eng/ViewDetails.aspx?ID=709068
https://mondoweiss.net/2014/07/soliders-kidnapping-retribution.html
https://www.almanar.com.lb/english/adetails.php?fromval=1&cid=23&frid=23&eid=159234
https://www.mintpressnews.com/the-high-cost-of-israels-brutal-assault-on-palestinians-in-search-for-israeli-teens/193263/
https://revolution-news.com/berlin-refugees-threaten-to-set-squat-on-fire-if-police-attempt-eviction
https://www.presstv.ir/detail/2014/07/01/369367/israeli-forces-kill-palestinian-teen/
Image of the girl Sanabel Mohammed Fahmy al-Tus (9 years) run over by a car from a settlement near Bethlehem before the commandos fled.

Children are precious.
When we were in Gaza my partner, a jazz musician, gave his trumpet and a few lessons to a young boy who was fascinated by our music. We bunked with two sisters and their elderly father, their cousins and aunts. Some of them slept on the floor so we might have beds. Are they on this list? Or unmet others, as generous and kind as they? We still marvel at the deep love shared between father and son as the child delighted in the gift of a musical instrument from America. -AW
June 2014

The Music of Archie Roach




Alice Walker and Archie Roach: Sydney Opera House 5/14

Seams Of Gold: Was the Gold We Seek Once Inside Us?

©2014 by Alice Walker

Twenty-two years ago, in Adelaide, at one of Australia's literary festivals, I met Archie Roach. But did we actually meet? What would we have said? It is probably truer to say that I saw Archie Roach, as he sauntered past in colorful vest and Mohawk hair cut, on the way to the stage to sing a selection of his extraordinarily beautiful and soulful songs. An Aboriginal man of gentle force, dignity, and with more than a hint of being a free spirit in his smile, he certainly stood out. Did I meet Ruby, his wife? Was she there? Probably, because even though they were caring for a houseful of abandoned street children at the time, as someone had whispered to me, they were almost always together. So much so that one did not say "Archie" or "Ruby" but "Archie and Ruby" always.

Please read the complete post…
Maya Angelou
Maya Angelou was an indomitable spirit of great generosity, kindness, and love. Her work, both written and spoken, has inspired, and actually helped, the lives of millions. When I think of tribute, I envision Maya as a kind of General of Compassion, offering an army of words of encouragement. She was special, she was rare, she was more beautiful than perhaps even she realized, because she was among other things such an artist that she could not only create worlds on paper, or in a listener's imagination, but she also managed, over and over again in her long life, to create and recreate herself.
Alice Walker
Spanish Translation by Mañuel Verdecia :
"Maya Angelou fue un espíritu indomable de gran generosidad, benevolencia y amor. Su obra, tanto la escrita como la oral, ha inspirado y, de hecho, ha ayudado a la vida de millones. Cuando pienso en un tributo, veo a Maya como una suerte de General de la Compasión que ofrece un ejército de palabras de aliento. Era especial, era rara, era más bella incluso que lo que ella misma podía percibir, porque era, entre otras cosas, tal clase de artista que no solo podía crear mundos sobre el papel o en la imaginación del oyente, sino que también lograba, una y otra vez en su larga vida, crear y recrear su propio ser."
Vincent Harding 1931-2014
Vincent looks across at us from Paradise -aw
Vincent nos contempla desde el paraíso
Vincent Harding 1931-2014
Dear Friends / Queridos Amigos
May 1, May Day, 2014
A child is a child is a child… See The War Against Children blog post.
Un niño es un niño es un niño… Vea el texto "La Guerra contra los Niños" en el blog.
What to do can be the hardest question to ask one's self. I have found giving to organizations that really work hard for our people (all of them), the animals (all of them), and the earth (all of it) one way to honor the deep connections that I feel. The people, the (other) animals, the earth, are so dear. How could anyone wish to harm them? Yet, we do. Humans do. But we also heal. We sit beside the one who weeps and share a shoulder, an embrace. We find food and water where there is none or it is scarce. We liberate the caged. We find teachers for the children of war whose schools have been bombed to splinters. We fight to keep GMOs out of our water and off our Mother's face, even as we mourn the irradiation of the sea.
This letter today from Avaaz cheered my day. May it lift yours. -AW
Dear Avaazers,
I feel continually grateful for the level of trust that Avaaz donors place in our work every month, and I wanted to make sure you know what happens after you make that important choice to hope and to give!
For example – take a look at this:
We're buying a rainforest! Over 90,000 of us donated enough to give $1 million to conservation organisations like the Rainforest Trust who are buying land connecting two vital preserves in Borneo that can keep the orangutans alive on this planet with us.
I love this job :)
These amazing girls are a second example:
Yamama and her cousin Hayat are Syrian refugees, but they're in school in part because our community raised $1 million in a challenge grant to donor governments to save Syria from a lost generation of children without education. We just got word that governments have matched us over 100:1!! UN Education Envoy Gordon Brown called our effort "magnificent" and "important in getting governments to give."
And for a third, meet Gaby:
Gaby Lasky is an inspiring Israeli lawyer working with leaders of the Palestinian nonviolent movement and a tireless team to defend hundreds of peaceful activists against trumped up charges . Our community donated enough to grant $225,000 to Gaby's efforts!
Many, many more stories to tell, but our community's top issue for donations has been climate change…
Here's Filipino climate ambassador Yeb Sano, delivering a massive petition spearheaded by Avaaz to the world's climate negotiators. Our climate change campaign, supported by tens of thousands of monthly 'sustainer' donors, has a large team working day and night to press our governments into action on this crisis of our time. Click here to read an in-depth report on our climate team's full-spectrum work to save the world.
But it's not just the money we donate as a community, but HOW we raise it that makes us a unique force for good in the world. Here's three things that make us special:
Our community calls the shots. We don't accept any money (ever!) from governments, corporations, foundations, or large donors — making our community our only boss. Most of the non-profit sector is funded by very rich people, whose preferences deeply shape the work done.
We're super fast. Even for urgent problems, it can take months or even years to raise money from foundations and large donors — but we can raise over $1 million in hours!
We're political. Because our donations are not tax deductible, we have no government restrictions on calling out politicians, and politics is where many battles to save the world are won and lost.
Partly because of our unique model and proven track record of impact, the number of Avaaz members choosing to donate has been skyrocketing, heading for 1 million!
Most of the money donated goes to Avaaz campaigns. But a lot of it, we just give away — over $8 million so far to humanitarian causes and partner organisations who are doing great work that is unlikely to be funded by corporations and foundations. Organisations like the The Equality Effect for whom our community raised $300,000 last year. The head of The Equality Effect said "we are enormously grateful to Avaaz members for supporting us in ensuring laws in Kenya and Malawi protect girls who are vulnerable to some of the most appalling violence in the world."
Some people criticise activism as useless or feel-good, and they're sometimes right. But Avaaz has been given awards for our effectiveness, and our community's ability not just to speak out powerfully, but to put our money where our mouths are , is a massive part of why we're a force that is changing the world. And we're just getting started :).
With huge appreciation and respect for all that everyone is contributing,
Ricken and the team
PS – all our financial accounts are fully audited every year, and every year we get a squeaky clean bill of health. You can see the audit letters, and more financial info here .

April 2014
This ancestral Mojave woman with her many tattoos is refusing to be made larger! Her eyes to me are even more striking than her facial art.
Someone who heard me say my mother never said "I love you" to me until she was an old woman, sent this beautiful response to the child in me who did not understand. When your language is stolen and replaced with an ill fitting one, speaking of something as important as love must feel like a rusty tin can has been nailed to your mouth. A brutal image, yes, but what can be more brutal than being robbed of a language that connects us with the Universe and having it replaced with something that connects us only to those in control?
I have never forgotten a comment made by a woman acquaintance to the effect that sure, the Indians of South America lost their languages (in this instance to the Spanish speaking conquerors) just as they lost their precious metals, particularly gold. Though they lost the gold of their language and their environment, said this woman, they were amply compensated by the acquisition of the "gold" of the Spanish language they now spoke so beautifully (and of course were forced to learn). Yes, there are people who think like this. They are those who may have chosen a language other than their birth language because of its advantages for them, but they have never experienced the anguish of having a language (the strongest possible connector to one's ancestors) ripped from them.
If What I Mean Is Hummingbird, If What I Mean Is Fall Into My Mouth

I find the piece below incredibly insightful and healing and am grateful for it. If my mother were alive I would sit and talk with her about it. Her belief was that "doing is better than saying" and I wonder how many generations back we'd have to time travel in order to find the place where to say I love you encompassed the distilled yearning, desire, and passion of one's entire history, memory, and culture.

If What I Mean Is Hummingbird, If What I Mean Is Fall Into My Mouth

[by Natalie Diaz]

In Mojave, the words we use to describe our emotions are literally dragged through our hearts before we speak them—they begin with the prefix wa- , a shortened form of iiwa , our word for heart and chest. So we will never lightly ask, How are you? Instead, we ask very directly about your heart. We have one way to say that our hearts are good, and as you might imagine if you've ever read a history book or lived in this world, we have many ways to say our hearts are hurting….

Continue Reading Mojave and If What I Mean Is Hummingbird, If What I Mean Is Fall Into My Mouth and en Español
March 2, 2014
One of the most remarkable persons to have graced our planet is the South African Zulu Shaman Credo Mutwa. His teachings about so many things are immensely valuable. Indeed, I have been envisioning how an entire course of study might be constructed around his wisdom. I am perhaps not the person to attempt such a course, but it is obvious to me it would benefit the planet and human and animal kind if someone did. There is a world of information this great teacher and healer offers us: from the (perhaps) thousands of years Africans have interacted with Space beings to this revelatory look below at the African way with ancient and contemporary Crop Circles.
A gardener, I loved crop circles from the moment I was shown pictures of them. I was also moved by the spirit of the beings who made them. To create so beautifully, so mysteriously, how cool they must be! I also resonate deeply with the traditional African sense of reciprocity and reverence with these unanticipated guests.
Credo Mutwa is now 92 years old. He is in great pain, suffering from the knowledge that, as he says, his continent, Africa, is being murdered. What can we do to stop the depopulation of Africa, of Earth? Let us begin by knowing who we have been; what has already been taken from humanity. Let us honor and love ourselves, and each other, before we go.
2 de marzo de 2014

by Cuban poet and translator Mañuel Verdecia

Una de las personas más extraordinarias que han enaltecido nuestro planeta es el chamán sudafricano de origen zulú Credo Mutwa. Sus enseñazas sobre muchísimas cosas resultan inmensamente valiosas. De hecho, he estado considerando la forma en que se podría organizar un curso de estudio en torno a su sabiduría. Tal vez no sea la persona adecuada para procurar tal curso, pero para mí es obvio que beneficiaría al planeta así como a las especies humana y animal si alguien lo hiciera. Hay todo un mundo de información que este maestro y curandero puede ofrecernos: desde (quizás) los milenios en que los africanos han interactuado con criaturas del espacio hasta esa mirada reveladora al saber de los africanos respecto a los antiguos y contemporáneos círculos de las cosechas.

Como jardinera, me enamoré de los círculos de las cosechas desde el instante en que me mostraron fotos de ellos. Me sentí muy conmovida por el espíritu de los seres que los hicieron. Para crear de forma tan bella, tan misteriosa, ¡cuán estupendos deben ser! También me identifico profundamente con el tradicional sentido africano de de reciprocidad y reverencia hacia estos huéspedes inesperados.

Credo Mutwa tiene ahora noventa y dos años. Se halla en un profundo dolor, sufriendo por saber que, según dice, su continente, África, está siendo asesinado. ¿Qué podemos hacer para detener la despoblación de África, de la Tierra? Empecemos por saber quiénes hemos sido, de qué se ha privado ya a la humanidad. Honrémonos y amémonos a nosotros mismos y a los otros, antes de marcharnos.

by Andreas Muller
31 August 2013
from Earth-Heal Website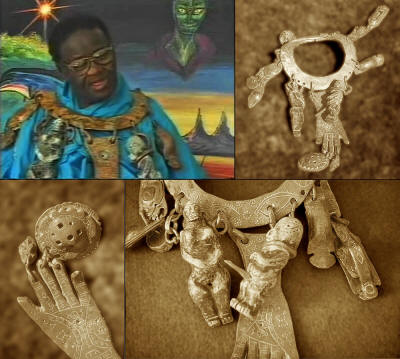 "The world in which we live is more miraculous than we know.
There are things which go on in our world about which we know nothing."
Vusamazulu Credo Mutwa
Prologue
In late 2002 I read the book " Secrets in the Fields " by crop circle researcher Freddy Silva .
On page 303 the author writes:
"If contact with non human life continues to follow the U.S. military's example of researching UFOs – shoot them down and analyze them – then it's no wonder contact needs to be made in more subtle ways with people who appear to have every inclination of behaving like barbarians.

Yet compare this attitude with that of "pagans" in South Africa in response to crop circles:

'Whenever a circle appeared in the fields, the people rushed to erect a fence of poles around the circle. They would dance and perform other sacred rituals honoring the Star Gods and the Earth Mother.

All the kings and chiefs awaited the arrival of these circles.

Their appearance would be cause for celebrations that lasted several days. The celebrations were accompanied by prayers to the gods to watch over the people and talk to them through the sacred sites'."

(MUTWA 1996, 23 / SILVA 2002, 303)
As the bibliographical reference Silva gives: Mutwa, Credo. 1996. 'Isilwane – The Animal.' Cape Town, S. Africa: Struick.
To be honest, I'd never heard of this book or its author before. I soon learnt more about this astonishing man, when doing an online search for his name.
Vusamazulu Credo Mutwa…
Continue Reading Ancients Crops Circles of Africa