Don't Break Your Heart, Again (Thank You, Zillah Eisenstein)
Don't Break Your Heart Again, I Couldn't Bear It. – AW
She's In: Anti-Racist, Anti-Imperial Feminists Against War
By Zillah Eisenstein
Hillary Rodham Clinton (un)officially entered the 2016 presidential race in her interview with Jeffrey Goldberg of The Atlantic magazine. Much has been said of her criticism of the Obama administration's Syria policy and the vacuum it supposedly created allowing Islamic "terrorism" to flourish. Much less has been said of her unequivocal embrace of president Netanyahu and the Israeli war in Gaza. Her stance condones a perpetual state of war for the entire globe.
Meanwhile, and poignantly, Palestinians stand in solidarity with Blacks in Ferguson, Missouri, against apartheid and racist policies aimed at "disposable others" like themselves. They indict the militarized and war-like policing that kills them as well as the unarmed Black teenager Michael Brown. Officers like these in the U.S. are trained in Israel, whichsets the standard for high stakes security. Keep in mind these complex intersections between colonialism, racism, and militarism as I proceed to discuss HRC's notion of foreign policy and women's rights.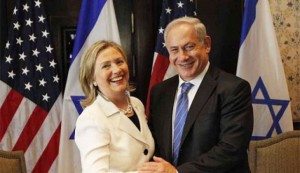 I am thinking about feminists of all sorts—and how so many of us are anti-racist and anti-militarist. HRC as president will be used to disguise militarism with a friendly white female face, read as feminist. "We" -– women — will be told that the glass ceiling has been broken. "We" will hear that we are now in a post-feminist era. But this particular "we" remains too rich, too white, too imperial, too capitalist, too… And, it is not enough to hope that this elitism will resolve itself. It is crucial for U.S. women to say no to these policies of mass destruction, incarceration, and militarization, even if the strategy for doing so seems unclear. Not in our Name.
Most feminisms in the last three decades have become more complicated, more complex, more intersectional—anti-racist, pro-Palestinian, pro-sex, pro-choice, anti-violence, pro-trans, pro-environment, and anti-militarist. It is past time to speak up against policies that continue American exceptionalism, imperialism, colonialism, racism, and sexism.
A Line in the Sand
Hillary's renewed defense of Netanyahu and Israel's "right" to defend itself gives "rights" to a patriarchal, racist, and colonial state. Women of all kinds and identities across these borders are put at risk in this instance. Their varied and differing rights in this war are ignored, and Palestinian women especially suffer heartbreak, and devastation and death in outsized proportion.
Hillary's stance towards Israel endorses the same policy/ies that have not worked for decades. She still wants to enforce a singular and exclusive U.S. notion of democracy; one that she claims is universal, "American values are universal values." She embraces Israel in this endeavor defending her position as: for "containment, deterrence and defeat."
She says Israel must defend itself and sees the ultimate responsibility for the present tragedy in Gaza as Hamas's fault. She frames a re-newed interventionism and calls it "smart power"—using our power "to spread freedom and democracy," but not in old forms of unilateralism and "boots on the ground." She may change tactics but not the strategy. The U.S. remains the arbiter of goodness and righteousness.
She speaks of balance, between overreach and under-reach. But in this opposition there is no middle ground. Her mantra is "peace, progress and prosperity." Similar to Angela Davis, I can think of other "P's": "patriarchy, prejudice, poverty, Palestine, and prisons."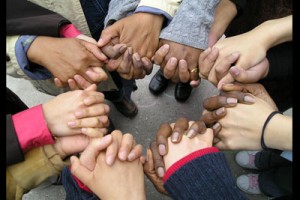 This is a singular moment—when everything that has been changing for almost half a century has come into crisis and little of what existed in the past really works, or makes sense. So, feminists of every sort need to mobilize and push for a multi-pronged agenda. It is time for feminists to stand in broad coalition with others against neo-liberal racist, patriarchal imperial practices, wherever they exist. In particular, anti-militarist feminists must join in coalition with others who demand an end to human and ecological destruction—especially in this moment, in Gaza and Ferguson.
Imperial feminism attempts to privilege inequality through gender bending that masquerades as equality. Imperial feminism privileges empire building through war. Imperial feminism exists for wealthy women, whatever their color. It denies that women lack access or opportunity on the structural basis of their racialized gender. Its view is privatized and individualized with little commitment to the masses of women, or men.
On Sexual Violence Towards Women
HRC has long said that women's rights, and more recently, sexual violence is a key indicator of the security for any state. But sexual violence/gender violence increases in times of war. Hillary Clinton, as secretary of state, said she would make women's formal rights integral to foreign policy. The women in Iraq and Afghanistan are wondering about what happened to this promise in their war-torn countries.
Think about Nigeria, Bosnia, Rwanda, Syria, Iraq, and so forth. So, how does one seek to end sexual violence while making and condoning war—that exacerbates every sort of violence, especially in sexual form? This past winter, February 2014, HRC delivered a lecture at University of Miami and said that sexual violence was at the heart of violence in Syria and Libya. I am thinking that feminists in the U.S. better be careful to push back here. U.S. bombs were wrapped in women's rights rhetoric in the Afghan and Iraq wars. These strategies make complex narratives for feminisms in the U.S.
Sexual and gender violence is not a single site. Race is not a singular site. Class is also never singular in identity. The multiple and overlapping status of each singular and exclusionary approach must be challenged. These overlapping, intertwining, intersecting sites deny singular identities. War dirties the water, and destroys the forests, and ruins the earth. It is time to use our intersectional and coalitional feminism to mobilize for a just peace.
Women's Rights and the Market
HRC says that peace and security are dependent on the participation of women, especially in the labor force, in the formal economy. How do you "fix" the economy by allowing and encouraging women to enter it? And how do you "fix" women with an economy that is structured with racial and sexual ghettoes? Having women enter the labor force is an old strategy that intensifies the triple day of labor for women, but is not tied to their freedom, or equality, or liberation. Jobs did not bring liberation to women in Russia after their revolution, or to women in the U.S. today. Supposedly the GDP goes up if women enter the labor force—increasing productivity 34 % in Egypt and 9% in Japan. But who really gains here? And where is the peace and security in Egypt just now?
HRC uses her "No Ceilings" initiative to advance women and girls around the world. She says, "giving women the tools to fully participate in their economies, societies and governments" is the unfinished business of the 21st century. I am more interested in a "no basements" initiative.
We need language and analysis and politics that can grow with us. Let us be radically democratic and look for an inclusive solidarity with each other. HRC allows us to clarify the multiple politics of feminisms, by differing with her worldview.  Stop wondering if Hillary is going to run. Instead, let us figure out how we can build feminist solidarities to stop war everywhere, including the daily war on our environment.
Choosing a Coalition for Feminisms
Power feminism, imperial feminism, and white middle class feminism are not the answer to this moment of crisis. The more radical-liberal hopes of sexual and racial equality have been debased towards neo-liberal individualized and downsized promises. Opportunity is the new mantra. Equality (of opportunity) has been erased.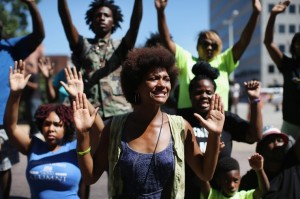 Feminism is about so much more than gender, and the concerns that emanate from this site. It involves the multipronged, multiple, and complex identities of gender—racial, class, sexual, age, ability, trans, and so on. Feminisms insist on naming gender and the way it intersects at all these locations.
Sheryl Sandberg asks women at the top to "lean in" and not pull back from demanding their due. Jill Abramson, former editor of the New York Times, who leaned in quite successfully, was then publicly humiliated and fired. Abramson's case reveals the elitism of women's rights as well as the truth of sexism and glass ceilings, and glass cliffs. There was much discussion about how she was held to misogynist standards. And she was. But the exposure of this insult applies to most women in most places. There should be outrage for the rest of us as well.
Imperial feminism is not intersectional. Imperial feminism assumes a unitary stance of structural misogyny for empire even though discrimination towards women is critiqued. As long as the visor is not explicitly multi-racial and multi-class it remains white and privileged. But anti-racist, anti-imperial feminism imagines beyond separation and singularity to an endless sense of variety and multiplicity of genders, and races and sexualities themselves.
Multiple realities exist for women of all colors today—and misogyny still exists alongside upward mobility for some particular women. Women as a class — this is still a structural deficit. Most women—especially women of color both here and across the globe are struggling against poverty, and for a living wage. It is the mixed realities that make present forms of patriarchy more complex and multiple. And Hillary? A woman without an inclusive anti-racist, anti-imperial feminist agenda cannot imagine or create the conditions for peace with justice. So she cannot make enough of a difference for most of us.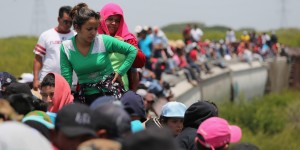 Critique the racist patriarchal capitalist and global market that turns 70 percent of women into migrants and refugees. Stand against the newest expressions of structural racism and misogyny across coalitions to save the planet and the rest of us. Begin to create the solidarity and trust that all of us need to end the misery that too many of us suffer daily. We can start here.
#handsUp/Don'tShoot
#handsOff/Don't Rape
#feminisms AgainstViolence/capitalist,racist,patriarchal,imperialist
#feministsAgainstImperialFeminism
Hillary who?
Source Article: http://thefeministwire.com/2014/08/shes-anti-racist-anti-imperial-feminists-war/
________________________________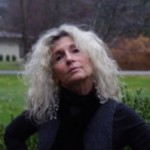 Zillah Eisenstein has been a Professor of Politics at Ithaca College in New York for the past 35 years and is now "Distinguished Scholar in Residence" there. Besides her recently published THE AUDACITY OF RACES AND GENDERS: A PERSONAL AND GLOBAL STORY OF THE OBAMA CAMPAIGN (2009, Zed Press, London; Palgrave, U.S.), her books include among others: SEXUAL DECOYS, GENDER, RACE AND WAR IN IMPERIAL DEMOCRACY (London, Zed Press; New York, Palgrave, 2007); AGAINST EMPIRE, ibid.; HATREDS: RACIALISED AND SEXUALIZED CONFLICTS IN THE 21ST CENTURY, (Routledge, 1996); GLOBAL OBSCENTITIES: PATRIARCHY, CAPITALISM AND THE LURE OF CYBERFANTASY (NYU PRESS, 1996); and MANMADE BREAST CANCERS, (Cornell Univ. Press, 2001). For more information see:www.ithaca.edu/zillah.
No te rompas el corazón de Nuevo, no lo soportaría. A.W.
Ella está en acción: feministas antirracistas y antiimperialistas contra la guerra
21 de agosto de 2014
Por Zillah Eisenstein, Colaboradora invitada
Hillary Rodham Clinton entró (no)oficialmente en la carrera presidencial de 2016 en su entrevista con Jeffrey Goldberg de la revista Atlantic. Mucho se ha dicho de su crítica a la política del presidente Obama hacia Siria y al vacío que supuestamente esta ha creado permitiendo que el "terrorismo" islámico florezca. Mucho menos se ha dicho sobre su inequívoco abrazo al presidente Netanyahu y a la guerra israelí en Gaza. Su postura beneficia un perpetuo estado de guerra para el mundo entero.
Mientras tanto, y conmovedoramente, los palestinos se alzan en solidaridad con los negros de Ferguson, Missouri, contra el apartheid y las políticas raciales dirigidas a "los otros prescindibles" como ellos mismos.  Denuncian el militarizado y beligerante control policial que los asesina al igual que al joven Michael Brown. Oficiales como estos se entrenan en Israel, lo cual establece el parámetro para la seguridad de alto presupuesto. Téngase en mente estas interrelaciones entre el colonialismo, el racismo y el militarismo a medida que yo proceda a analizar la noción de HRC sobre política internacional y los derechos de las mujeres.
Estoy pensando en feministas de todo tipo –y en cuántas de nosotras somos antimilitaristas y antirracistas. HRC como presidenta será utilizada para disfrazar el militarismo con un amistoso rostro blanco femenino, entendido como feminista. A "nosotras" se nos dirá que el techo de cristal se ha roto. "Nosotras" oiremos que estamos ahora en una era postfeminista. Sin embargo este "nosotras" particular permanece aún demasiado rico, demasiado blanco, demasiado imperial, demasiado capitalista, también. Y no es suficiente esperar que este elitismo se resuelva pos sí solo. Es cardinal para las mujeres de los Estados Unidos decir no a estas políticas de destrucción masiva, encarcelamiento y militarización, incluso si la estrategia para hacer esto parece imprecisa. No a nombre nuestro.
La mayoría de los feminismos en las últimas tres décadas se han vuelto más complicados, más complejos, más intergrupal –antirracista, pro-palestino, pro-sexo, pro-aborto, anti-violencia, pro-transexuales, pro-ambientalismo y antimilitarista. Ya estamos pasados de tiempo para hablar alto y claro en contra de las políticas que dan continuidad al excepcionalismo, el imperialismo, el colonialismo, el racismo y el sexismo norteamericanos.
Una línea en la arena
La renovada defensa de Hilary Clinton del "derecho" de Netanyahu y de Israel a defenderse concede "derechos" a un estado patriarcal, racista y colonial. Mujeres de todas clases e identidades a través e estas fronteras son puestas en riesgo en este caso. Sus varios y diferentes derechos en esta guerra son ignorados y las mujeres palestinas en especial soportan sufrimientos, devastación y muerte en gigantescas proporciones.
La posición de Hilary hacia Israel refrenda la(s) misma(s) política(s) que no ha(n) funcionado por décadas. Desea todavía reforzar una singular y exclusiva noción estadounidense de democracia. Una que ella alega que es universal, "Los valores norteamericanos son valores universales". Ella se liga a Israel en este esfuerzo defendiendo su posición como que es para "contención, disuasión y derrota".
Afirma que Israel debe defenderse y ve en última instancia la responsabilidad de la presente crisis en Hamas. Ella formula un intervencionismo renovado al que denomina como "poder inteligente" –el uso de nuestro poder para "expandir la libertad y la democracia", pero no en las antiguas formas del unilateralismo y las "botas sobre el suelo". Puede cambiar de táctica pero no de estrategia. Los Estados Unidos se mantienen como árbitros del bien y lo correcto.
Habla de equilibrio entre hacer demasiado o quedarse por debajo. Mas en esta oposición no hay territorio intermedio. El mantra de ella es "paz, progreso y prosperidad". Igual que Angela Davis, yo puedo pensar en otras Pes: "patriarcado, prejuicio, pobreza, Palestina y prisiones."
Este es un momento singular, cuando todo lo que ha venido cambiando durante casi medio siglo he entrado en una crisis y poco de lo que existía en el pasado funciona o tiene sentido realmente. De modo que los feministas de todos tipos deben movilizarse y presionar por una agenda multipropósitos. Es hora de que los feministas se alcen en una amplia coalición con otros en contra de las prácticas racistas, patriarcales e imperiales de corte neoliberal, dondequiera que existan. Particularmente, el feminismo antimilitarista debe unirse en coalición con otros que exigen el fin de la destrucción  humana y ecológica, especialmente en este instante, en Gaza y Ferguson.
El feminismo imperialista intenta privilegiar la inequidad a través de la flexión genérica que se enmascara como igualdad. El feminismo imperialista privilegia la construcción del imperio mediante la guerra. El feminismo imperialista existe para las mujeres ricas, independientemente de su color. Este niega que la mujer carezca de acceso o de oportunidad debido a la base estructural de su género y raza. Su visión es privatizada e individualizada con escaso compromiso hacia las masas de mujeres u hombres.
Acerca de la violencia sexual hacia las mujeres
Hillary Rodan Clinton ha dicho hace mucho que los derechos de las mujeres, y más recientemente, la violencia sexual, son un indicador clave de la seguridad de cualquier estado. Sin embargo la violencia sexual o de género se incrementa en tiempos de guerra. Hillary Clinton, como Secretaria de Estado, dijo que haría que los derechos formales de las mujeres fueran parte integral de la política exterior. Las mujeres de Iraq y Afganistán se preguntan qué sucedió con esta promesa en sus países devastados por la guerra.
Piénsese en Nigeria, Bosnia, Rwanda, Siria, Iraq y otros. De modo que ¿cómo uno puede pretender poner fin a la violencia sexual a la vez que aprueba y hace la guerra, la cual exacerba todo tipo de violencia especialmente en su forma sexual? Este pasado invierno, en febrero de 2014, Hillary Clinton realizó una conferencia en la Universidad de Miami y dijo que la violencia sexual se hallaba en el centro de la violencia en Siria y Libia. Estoy pensando que los feministas en los Estados Unidos mejor deben tener cuidado con empujar aquí. Las bombas de Estados Unidos iban envueltas en la retórica de los derechos femeninos durante las guerras de Iraq y Afganistán. Estas estrategias conforman narrativas complejas para el feminismo en los Estados Unidos.
La violencia sexual y de género no es un lugar individual. La raza no es un lugar singular. La clase nunca es tampoco singular en identidad. El estado múltiple y solapado de cada acercamiento singular y excluyente debe ser cuestionado. Estos lugares solapados, entrelazados y entrecruzados niegan las identidades singulares. La guerra poluciona el agua y destruye los bosques y arruina la tierra. Es hora de emplear el feminismo intergrupal y coalicionista para movilizarnos por una paz justa.
Los derechos de las mujeres y el mercado
Hillary Rodan Clinton dice que la paz y la seguridad dependen de la participación de la mujer, especialmente entre la fuerza laboral, en la economía formal. ¿Cómo se "arregla" la economía permitiendo y estimulando a las mujeres a entrar en ella? Y ¿cómo se "arregla" a las mujeres con una economía que está estructurada en guetos raciales y sexuales? Hacer que las mujeres se incorporen a la fuerza laboral es una vieja estrategia que intensifica el triple día de labor para ella, pero no se relaciona con su libertad, su igualdad o su liberación. Los puestos de trabajo no trajeron libertad a las mujeres en Rusia después de su revolución o a las mujeres en los Estados Unidos hoy. Supuestamente el PIB se eleva si las mujeres se incorporan a la fuerza laboral (incrementó la productividad en un 34% en Egipto y un 9% en Japón). Sin embargo, ¿quién gana en realidad aquí? Y ¿dónde está la paz y la seguridad en Egipto ahora?
Hillary usa su iniciativa de "Ningún techo" para hacer progresar a las mujeres y jóvenes por todo el mundo. Dice, "dar a las mujeres las herramientas para que participen completamente en sus economías, sociedades y gobiernos" es un asunto inacabado del siglo 21. Yo estoy más interesada en una iniciativa de "ningún sótano".
Necesitamos lenguaje y análisis y política que pueda crecer con nosotras. Seamos radicalmente democráticas y vayamos por una solidaridad incluyente unas con otras. Hillary Rodan Clinton nos posibilita aclarar las múltiples políticas del feminismo al discrepar de su visión del mundo. Dejen de preguntarse si Hillary se va a postular. En su lugar, pongámonos a imaginarnos cómo podemos construir solidaridades feministas para detener la guerra en cualquier sitio, incluyendo la guerra diaria contra nuestro entorno.
Escogiendo una coalición para feminismos
El feminismo poderoso, el feminismo imperial y el feminismo de la clase media blanca no son las respuestas para este momento de crisis. Las expectativas más radical-liberales de igualdad sexual y racial han sido degradadas hacia promesas neoliberales individualizadas y reducidas. La oportunidad es el nuevo mantra. La igualdad (de oportunidades) ha sido borrada.
El feminismo trata de mucho más que el género y las preocupaciones que emanan de esta área. Este incluye las identidades multilaterales, múltiples y complejas de género (raciales, clasistas, sexuales, de habilidades, transexuales, etcétera). Los feminismos insisten en nombrar el género y la forma en que  este se entrecruza con todas estas áreas.
Sheryl Sandberg les pide a las mujeres que están en la cima que se "incorporen al diálogo" y no renuncien a exigir su cuota. Jill Abramson, exredactora del New York Times, quien se incorporó con bastante éxito, fue entonces humillada públicamente y despedida. El caso de Abramson revela el elitismo de los derechos de las mujeres así como la verdad del sexismo y los techos y acantilados de cristal. Hubo mucha discusión sobre el modo en que fue sujeta a principios misóginos. Y lo fue. Mas la exposición de este insulto se aviene a la mayoría de las mujeres en la mayoría de los lugares. Debe haber ultraje para el resto de nosotras también.
El feminismo imperialista no es intersectorial. El feminismo imperialista asume una postura unitaria de misoginia estructural a favor del imperio aún cuando la discriminación hacia la mujer se critique. Mientras que la fachada no es explícitamente multirracial y multiclasista permanece siendo blanca y privilegiada. Mas el feminismo antirracista y antiimperialista asume más allá de la separación y la singularidad un interminable sentido de variedad y multiplicidad de géneros y razas y sexualidades mismas.
Existen múltiples realidades para las mujeres de todos los colores hoy (y la misoginia todavía existe junto a la movilidad ascendente para algunas mujeres en particular). Las mujeres como una clase, esto constituye todavía un déficit estructural. La mayoría de las mujeres (especialmente las mujeres de color tanto aquí como en el resto del orbe) están luchando contra la pobreza y por un salario de subsistencia. Es la mezcla de realidades lo que hace las formas actuales de patriarcado más complejas y múltiples. ¿Y Hillary? Una mujer sin una agenda feminista antirracista y antiimperialista incluyente no puede concebir ni crear las condiciones para una paz con justicia. De modo que ella no puede hacer lo suficiente para que haya una diferencia para la mayoría de nosotras.
Critica el racismo patriarcal capitalista y el mercado global que hace del 70 % de las mujeres inmigrantes y refugiadas. Levantémonos contra las nuevas formas de racismo estructural y misoginia mediante coaliciones para salvar el planeta y al resto de nosotras. Comienza a crear la solidaridad y la confianza que todas necesitamos para acabar con la miseria que demasiadas de nosotras padecemos diariamente. Podemos empezar aquí. 

Fuente del artículo: http://thefeministwire.com/2014/08/shes-anti-racist-anti-imperial-feminists-war
________________________________
Zillah Eisenstein ha sido profesora de política en la Universidad de Ithaca en Nueva York durante los pasados 35 años y ahora es Académica Destacada en Residencia allí. Además de su recientemente publicado THE AUDACITY OF RACES AND GENDERS: A PERSONAL AND GLOBAL STORY OF THE OBAMA CAMPAIGN (2009, Zed Press, London; Palgrave, U.S.), sus libros incluyen entre otros: SEXUAL DECOYS, GENDER, RACE AND WAR IN IMPERIAL DEMOCRACY (London, Zed Press; New York, Palgrave, 2007); AGAINST EMPIRE, ibid.; HATREDS: RACIALISED AND SEXUALIZED CONFLICTS IN THE 21ST CENTURY, (Routledge, 1996); GLOBAL OBSCENTITIES: PATRIARCHY, CAPITALISM AND THE LURE OF CYBERFANTASY (NYU PRESS, 1996); y MANMADE BREAST CANCERS, (Cornell Univ. Press, 2001). Para mayor información vea: www.ithaca.edu/zillah.
Translated by poet Mañuel Garcia Verdecia