Some Light: Thank you, Phylllis Bennis and The Nation. Whew!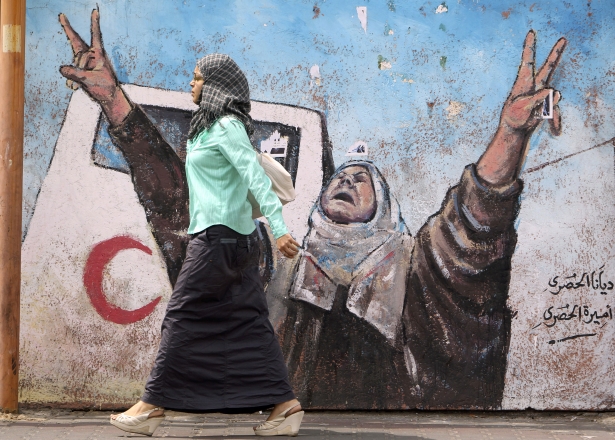 Why Opposing the Israel Lobby Is No Longer Political Suicide

by Phyllis Bennis

July 16, 2014


Our movement isn't strong enough yet to end US enabling of the carnage in Gaza—but the shift in public discourse is a crucial first step. Now we just have to escalate our own work to get on to that next stage.


A woman walks past a mural in Gaza City, (Reuters/Mohammed Salem)  

With the collapse of an Egyptian cease-fire proposal, the horror of Israel's latest Gaza assault continues. At least 185 have been killed, almost 80 percent of them civilians. Almost half are women and children. At least seventy homes were specifically targeted and destroyed. Five healthcare facilities, including a hospital, have been damaged in air strikes. There was a direct attack on a center for profoundly disabled people. It was one of Israel's much-bragged-about "carefully targeted" bombings, including the now-iconic "knock on the roof" message from the Israeli bombers—the small bomb that signals much worse to come. It wasn't an accident. Three people, two patients and a caregiver, were killed there. It goes on.

And Congress—indeed almost all of official Washington—is speaking with almost one voice: We stand with Israel. Israel has the right to "defend" itself. No country would stand by and allow this. But something is different this time. And not only that the assault is different, and worse.

The difference is the political environment in which this attack is happening, especially the political environment here in the United States. For those of us who've been working on changing US policy in the Middle East for decades, the bad news is in front of us every day: that policy hasn't changed, and billions of dollars in aid money and uncritical political, diplomatic and military support for Israel remains constant.

But there is some good news. It's only obvious when you can back up for a moment to look past the daily bad-news reality. The good news is that the discourse has shifted dramatically—in mainstream news coverage, punditry, pop culture and more. It's much better than ever. They don't get it right, still, but things are changing. Twelve years ago, during the siege of Yasir Arafat's compound in Ramallah and the surrounding of the Church of the Nativity in Bethlehem, we didn't hear many Palestinian voices in the mainstream press. In 2006, during Israel's attack on Gaza,The New York Times and NPR didn't send their reporters to the Khan Younis refugee camp or to Gaza City.

But the coverage had already begun to shift during Cast Lead, the three-week Israeli war against Gaza in 2008–09, and we realized then how much the media changes reflected the overall discourse shift. Despite Israeli efforts to exclude the international press, Al Jazeera and other Arabic channels were broadcasting live out of Gaza. The Times had a terrific young stringer, Taghreed el-Khodary, filing hour by hour. Israel probably wouldn't have allowed her into the Strip, but they couldn't stop her, she was already there—born and raised in Gaza and living with her family.

Most importantly, cellphones and computers were already ubiquitous, even in impoverished Gaza refugee camps. So when the electricity flicked on for an hour or two, the first thing people did was to power up their phones so they could send their photographs, videos, stories and heartbreak out into the world. It transformed how we understand what an occupation looks like, what a siege does to a town, what white phosphorous bombs look like when they hit a school.

These messages haven't reached everyone in the United States, and not all those it has reached have shifted their opinion. But the new discourse has changed an awful lot of minds. Polls have a limited value—at best they're a snapshot, a moment in time. But think about this one: It's the summer of 2010, President Obama is disagreeing with Israeli Prime Minister Netanyahu (itself a reflection of a changing political assumption) on settlements in the occupied territories. The press coverage falsely claims the United States is pressuring Israel, which amounted to a series of polite requests: Please stop building new settlements. When Israel said no a few times, the questions stopped. At that moment, a Zogby poll asked people to choose a statement that reflected their view of settlements. Sixty-three percent of Democrats—President Obama's own party and until not too long ago the main party of support for Israel—chose the statement that read "Israeli settlements are built on land confiscated from Palestinians and should be torn down and the land returned to Palestinian owners." A snapshot in time, maybe. But still—63 percent!

Organizations like the US Campaign to End the Israeli Occupation and Jewish Voice for Peace have both taken advantage of and pushed forward this discourse shift. The real challenge now is how to use this change, how to use the near-normalization of criticism of Israel to broaden the work, to engage with organizations and institutions and—gasp!—even members of Congress who have never touched this issue before and who still assume it's political suicide to criticize Israel. We know now it certainly isn't, and we have to figure out how to move to the next, far more difficult stage of turning discourse shift into real policy change.

There was some hope about President Obama when he was first elected, especially given his choice of the independent-minded former senator George Mitchell as special envoy. But Mitchell was kept on a way-too-short leash, and Obama collapsed entirely on this issue. He was never willing to use any of his political capital to actually pressure Israel to stop building settlements, never willing to put the $3.1 billion in military aid to Israel on the table, never willing to abandon protecting Israel at the UN so that its leaders would be held accountable for war crimes. That's what pressure starts with—and we haven't seen it yet.

We've got a long way to go. In an unexpected head-to-head debate I had back in 2011 with Obama adviser Ben Rhodes, it was shocking (though perhaps not really surprising) to see how profoundly ignorant Rhodes was of Israeli practices towards Americans—Arab-Americans in particular. But then, how else but through a profound discourse shift could we envision the top White House speechmaker and deputy national security adviser sitting there, squirming, while 300 Arab-Americans, mainly young Palestinian women, took him to task for allowing Israel a free pass with billions in aid money and the guarantee of impunity?

Some of the most important shifts have been within the Jewish community. J-Street helped break the taboo on the Hill; Jewish Voice for Peace plays a far more consistent and important role in mobilizing, especially young Jews. 

AIPAC still has the money to threaten members of Congress, but they can no longer claim to also bring Jewish votes with them, because the Jewish community is thankfully profoundly divided now on the question of Israel. AIPAC represents only the right wing (and therefore, of course, most of the money), J Street holds the center and Jewish Voice for Peace anchors the left. In the Jewish community it's just a whole new day out there.

Our movement isn't strong enough yet to end US enabling of the carnage in Gaza—but the shift in public discourse is a crucial first step. Now we just have to escalate our own work to get on to that next stage.


Phyllis Bennis is a fellow of the Institute for Policy Studies and of the Transnational Institute in Amsterdam. She is active in the US and global Palestinian rights and peace movements, and her books include Challenging Empire: How People, Governments, and the UN Defy US Power and Ending the US War in Afghanistan: A Primer.

Copyright © 2014 The Nation—distributed by Agence Global

Recommended recommendation from a friend: I've just read this article by Naomi Klein which is hugely fascinating. It's about her book and about how war has become a brand and the influence Israel has on other nations. Fascinating.  http://www.theguardian.com/commentisfree/2007/jun/16/israel.comment1  

UN POCO DE LUZ: GRACIAS A PHYLLIS BENNIS Y LA NACIÓN. ¡UF!

Por qué oponerse al lobby israelí ya no es un suicidio político

Por Phyllis Bennis

16 de Julio, 2014

The Nation

Nuestro movimiento no es lo suficientemente fuerte aun para impedir que los EE. UU. permitan la carnicería en Gaza, pero el cambio en el discurso público es un primer paso crucial. Ahora solo debemos incrementar nuestro propio trabajo para alcanzar la etapa siguiente.

Con el fracaso de la propuesta de un alto al fuego hecha por Egipto, el horror ante la más resiente incursión israelí en Gaza continúa. Al menos 185 personas han sido asesinadas, aproximadamente el 80 por ciento de ellas civiles. Al menos la mitad son mujeres y niños. Al menos setenta hogares fueron blancos específicos destruidos. Cinco instalaciones de asistencia médica, incluyendo un hospital, han sido dañadas por lo asaltos aéreos. Hubo un ataque directo a un centro de atención a personas con serias discapacidades. Fue uno de los bombardeos más cuidadosamente dirigidos y de los que más ha alardeado Israel, incluyendo el ahora icónico mensaje de "toque en el techo" por los bombarderos israelíes, la pequeña bomba que indica que algo peor vendrá aun. No fue un accidente. Tres personas, de ellos dos pacientes y un cuidador, fueron asesinados allí. Esto continúa.

El Congreso, en realidad casi todo el funcionariado de Washington, habla con una misma voz: Estamos con Israel. Israel tiene el derecho a "defenderse". Ningún país se mantendría al margen y permitiría esto. Sin embargo, algo es distinto esta vez. No solamente que el ataque es diferente y peor. La diferencia está en el entorno político en el que acontece esta arremetida, especialmente el ambiente político aquí en los Estados Unidos. Para aquellos de nosotros que hemos venido trabajando por cambiar la política norteamericana en el Oriente Medio durante décadas, la mala noticia está frente a nosotros todos los días: esa política no ha cambiado y miles de millones de dólares de ayuda así como un insensato apoyo político, diplomático y militar a Israel permanecen constantes.

No obstante hay una buena noticia. Se hace obvia solo cuando vuelves atrás por un momento y miras más allá de la realidad de las malas noticias diarias. La buena noticia es que el discurso ha cambiado dramáticamente (en la corriente dominante de la cobertura de noticias, las opiniones autorizadas, la cultura pop y más). Es mucho mejor que nunca antes. No lo tienen todo claro aun, pero algo está cambiando. Hace doce años, durante el asedio al complejo habitacional de Yaser Arafat en Ramallah y el cerco a la Iglesia de la Natividad en Belén no escuchamos muchas voces palestinas en los principales medios de prensa.  En 2006, durante el ataque israelí a Gaza, el New York Times y NPR no enviaron a sus corresponsales al campamento de refugiados Khan Younis o a la ciudad de Gaza.

Mas la cobertura había ya comenzado a cambiar durante la Cast Lead, la guerra de tres semanas de Israel contra Gaza en 2008-2009, y nos percatamos entonces de en qué medida los cambios en los medios reflejaban la transformación general del discurso. A pesar de los esfuerzos israelíes por excluir a la prensa internacional, Al Jazeera y otros canales árabes estaban transmitiendo en vivo desde Gaza. El Times tenía una tremenda corresponsal a tiempo parcial, Taghreed el-Khodary, informando hora tras hora. Israel probablemente no le habría permitido entrar en la Franja, pero no pudieron detenerla, ya estaba allí, nacida y criada en Gaza y viviendo allí con su familia.

Aun más importante, los teléfonos celulares y las computadoras ya eran ubicuos incluso en los empobrecidos campos de refugiados de Gaza. De modo que cuando la electricidad aparecía por una o dos horas, lo primero que hacía la gente era encender sus teléfonos para poder enviar sus fotos, videos, anécdotas y angustias hacia el mundo. Esto transformó el modo en que comprendemos cómo se ve una ocupación, lo que un estado de sitio le hace a un pueblo, cómo actúa el fósforo blanco cuando impacta una escuela.

Estos mensajes no han llegado a todos en los Estados Unidos y no todos a quienes han llegado han variado su opinión. Mas el nuevo discurso ha transformado un enorme conjunto de mentes. Las encuestas tienen un valor limitado, cuando mucho son una foto, un momento en el tiempo. Pero piensen en esto: es el verano de 2010, el presidente Obama está en desacuerdo con el primer ministro israelí Netanyahu (esto mismo un reflejo de un cambio en el presupuesto político) acerca de los asentamientos en los territorios ocupados. La cobertura de prensa falsamente proclama que los Estados Unidos está presionando a Israel, lo que se reducía a una serie de peticiones amables: Por favor, detengan la construcción de nuevos asentamientos. Cuando Israel dijo que no varias veces, las preguntas pararon. En ese momento, una encuesta de Zogby solicitó a las personas elegir una expresión que reflejara su visión de los asentamientos. Sesenta y tres por ciento de los Demócratas, el propio partido del presidente Obama y hasta hace muy poco el principal partido de apoyo a Israel, escogió la expresión que señalaba que "los asentamientos se construyen sobre tierra confiscada a los palestinos y debían ser demolidos y la tierra devuelta a sus dueños palestinos". Una foto en el tiempo, tal vez. Pero aun así ¡63 por ciento!

Organizaciones como la Campaña Estadounidense para Terminar la Ocupación Israelí y la Voz Judía por la Paz se han aprovechado y han impulsado este cambio de discurso. El desafío real ahora es cómo emplear este cambio, cómo usar la casi normalización de la crítica a Israel para ampliar su labor, para vincularse con organizaciones e instituciones e incluso miembros del Congreso que nunca antes han tratado este asunto y que todavía asumen que es un suicidio político criticar a Israel. Ahora sabemos que no lo es ciertamente y tenemos que imaginar cómo avanzar hasta la próxima etapa, mucho más difícil, de transformar el cambio de discurso en un cambio de política real.

Hubo cierta esperanza respecto al presidente Obama cuando fue elegido por primera vez, particularmente dada su elección del ex-senador independiente George Mitchel como enviado especial.  Pero a Mitchel se le mantuvo con una correa muy corta y Obama fracasó completamente en este aspecto. Nunca quiso emplear parte alguna de su capital político para presionar a Israel de que detuviera la construcción de asentamientos, nunca quiso poner los 3 mil millones de dólares de ayuda militar a Israel sobre la mesa, nunca quiso dejar de proteger a Israel en la ONU para que sus dirigentes tuvieran que dar cuentas por sus crímenes. Es con eso que comienza la presión y no la hemos visto aun.

Tenemos un largo camino por recorrer. En un inesperado debate frente a frente que tuve en 2011 con el asesor de Obama, Ben Rhodes, fue impactante (aunque quizás no asombroso) ver lo abismalmente ignorante que era de las prácticas israelíes hacia los americanos, en especial los árabe-americanos. Pero entonces, ¿de qué otra forma sino mediante un hondo cambio de discurso podíamos imaginar al alto vocero de la Casa Blanca y consejero suplente de seguridad nacional sentado allí, retorciéndose, mientras 300 árabe-americanos, principalmente jóvenes palestinas, le leían la cartilla por permitir a Israel un abono gratis con miles de millones en ayuda y garantía de impunidad?

Algunos de los más importantes cambios se han dado dentro de la comunidad judía. J-Street ayudó a romper el tabú en la colina del Capitolio; la Voz Judía por la Paz juega un papel mucho más consistente e importante en la movilización, especialmente de jóvenes judíos.
AIPAC (Comité Americano Israelí de Asuntos Públicos) todavía tiene dinero para amenazar a los miembros del Congreso, pero ya no pueden asegurar también obtener votos judíos, pues la comunidad judía está a buena hora profundamente dividida sobre la cuestión israelí. AIPAC representa solo el ala derecha (y por tanto, como es lógico, la mayoría del dinero), J-Street mantiene el centro y la Voz Judía por la Paz asegura la izquierda. Dentro de la comunidad judía es exactamente todo un nuevo día.

Nuestro movimiento no es lo suficientemente fuerte aun para impedir que los EE. UU. permitan la carnicería en Gaza, pero el cambio en el discurso público es un primer paso crucial. Ahora solo debemos incrementar nuestro propio trabajo para alcanzar la etapa siguiente.

Phyllis Bennis es una miembro del Instituto para Estudios de Política y del
Instituto Transnacional de Ámsterdam. Es una activista por los derechos de los palestinos y los movimientos de paz. Sus libros incluyen el Desafiando al imperio: Cómo la gente, los gobiernos, y la ONU desafían el poder de los EE. UU.  y Poniendo fin a los EE.UU.
La guerra en Afganistán: una introducción.